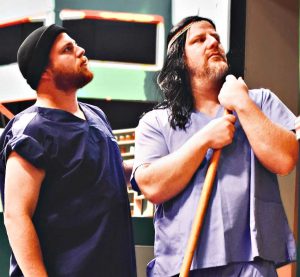 The Southside Theatre Guild opens its 47th season with the drama/comedy, "One Flew Over the Cuckoo's Nest." The play is based on the novel of the same name by Ken Kesey and adapted for the stage by Dale Wasserman, and presented by special arrangement with Samuel French publishers.
"This play touches on some difficult subjects," said Director Eileen Baldwin. "The abuses of the mentally challenged are shown here, as is the fighting spirit for freedom that one man's voice can provide."
Photo above:  Leonard Presberg and Tino Villalovas as Cheswick and Martini. Danielle Madison is in the background as Nurse Flynn.
When Randle Patrick McMurphy gets transferred for evaluation from a prison farm to a mental institution, he assumes it will be a less restrictive environment. A swaggering gambler with a quick wit and a silver tongue, McMurphy immediately establishes himself as the leader of the ward. However, the "Big" Nurse Ratched runs the psychiatric ward with an iron fist, keeping her patients cowed through abuse, medication and sessions of electroshock therapy. The battle of wills between the rebellious McMurphy and the inflexible Ratched soon affects all the ward's patients with serious repercussions.
"This is what I refer to as an actor's play," said Baldwin. "The cast has dug deep to present an amazing depiction of how the patients and staff deal with their day to day dilemmas."
Due to the subject matter and language, this production is recommended for adult audiences.
"One Flew Over the Cuckoo's Nest" will be presented Oct. 3, 4, and 6 and 10, 11, 12 and 13 at Southside Theatre Guild, located at 20 W. Campbellton Street in Fairburn, Ga.  Evening performances begin at 8 p.m. and Sunday matinees at 2:30 p.m. Adult tickets are $20 online and $25 if purchased at the door.  The theater is offering a special discount of $5 off for our Thursday night performances – only $15.00 for an adult ticket.  Reservations and additional information about Southside Theatre Guild can be found at www.stgplays.com.
Southside Theatre Guild is a 501(c)3, non-profit and is staffed entirely by volunteers.  Everyone is invited to attend our monthly business meetings, which are held on the second Tuesday of each month at the theatre, starting at 7 p.m. and we would love to have you become a member of our theatre family.  Family memberships are only $20 (unlimited number of family members) and $10 for individuals annually.  Auditions are always open to the public and if you have a talent you'd like to share, whether it be carpentry, sewing, lights or sound, we have a place for you.  If you're interested in learning, we'll teach you. We would love to have you come play with us at STG.