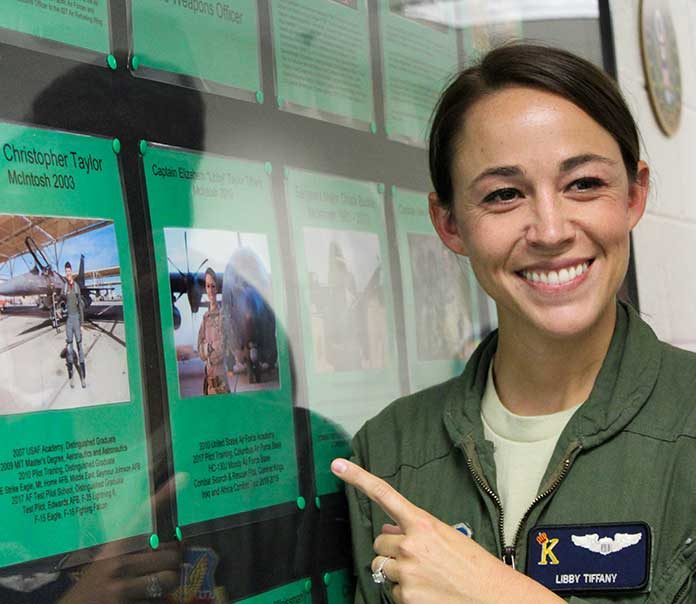 By Samantha Cornett
Editor in Chief of the McIntosh Trail
McIntosh High School is the first school in Fayette County to hold a ceremony to dedicate a brand new military Wall of Honor to former students, faculty and staff who served their country in the U.S. armed forces.
There are two glass cases located in the McIntosh Braelinn Village hallway that showcase a photo and biography of each honorary military member and their military service.
"We hope the outstanding examples of service to our nation in our Wall of Honor will not only show our pride in the military careers of our graduates and staff but also encourage current and future McIntosh students to consider the possibilities for personal growth and professional achievement offered by serving their country in the Armed Forces," said McIntosh Principal Dr. Dan Lane.
Five honorary military were in attendance, one being McIntosh's school resource officer Chris Judy.
"I think it is a great thing that shows the students where people go from here," said Judy. "I have a heart for veterans since I am one, so it's always good to see people reach out and do something for a veteran too."
Another honorary military in attendance was Elizabeth Taylor Tiffany, a 2010 graduate who has since gone on to serve as a combat search and rescue pilot. "When I graduated we had four people go to different military academies, so without McIntosh being one of the most pro military schools, as well as my family being all military, my brother went here then went into the academy, it's cool," said Tiffany.
"Kids can see both girls and guys do all the things. I fly airplanes but you can do whatever you want. It's all really cool and hopefully this honor encourages people to go out there and join if that's what you chose to do."
Along with the honorary military and spectators in attendance, the school had five senior ambassadors escort the audience to the Braelinn village and attend the ceremony with them.
"I am so glad that I was chosen to come and escort these people because they have done so much for our country," said senior ambassador Kayla Rose. "They also graduated from the same place we will so they know what it is like to be a McIntosh student and to have that honor and then to take it one step further to be apart of the military, which is a national honor, is amazing."
"I feel honored that the administration chose me to help support this honorable event," said senior ambassador Tyler Schmidt.
The school also invited six members of their top choir Cantabile to attend and sing the national anthem at the ceremony.
"It was an honor to sing in the ceremony. Being from an Army family, I was proud to sing and help recognize our own McIntosh heroes," said senior Patrick Rynne. "We should always thank and appreciate those who served our nation."