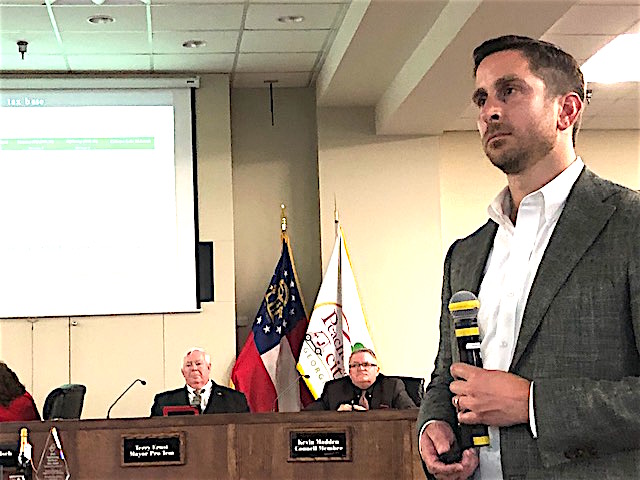 Ernst: 'Fabulous proposal, wrong place'; Fleisch: 'Wrong place'; Madden: 'Terrific plan' with noise and safety issues; King: 'Best plan I've seen in 5 years' but too close to the airport — 
The more than 50 citizens attending the May 16 Peachtree City Council meeting were split roughly 70-30 against the rezoning request Thursday night. There was no such split among council members.
The 4-0 vote turned down the rezoning request that would have put 350 luxury apartments, 43 homes and 27 townhomes on 28 acres inside the city's industrial park on the scenic eastern bank of Lake McIntosh, one of Fayette County's drinking water reservoirs.
The site is adjacent to the Peachtree Regional Airport — Falcon Field, and that proximity defined much of the council's concerns over aircraft noise and on-ground safety.
Jason Pace of Pace Lynch Corp. presented the plan as a live-work-play answer to modern corporate needs for young, skilled workers. He noted the industrially zoned parcel has sat vacant for 29 years when it could have been producing tax revenue for the city.
Supporters touted the need for the city to adapt its zoning to promote attraction of talent that would bring corporate headquarters and high-tech jobs. Several emphasized that the city needed to change to bring in the workers and companies of today rather than continuing to rely on what once worked but no longer did.
Opponents argued against the notion that the city is in decline and needed this development to turn it around.
"I see thousands of kids with their families when I drive by the sports fields," said 46-year-resident Randy Hough.
Morgan Hallman said a "yes vote would set a precedent that would pressure the city to make more changes from industrial zones to residential.
Aventure Aviation owner Zaheer Faruqi urged a "no" vote until the site could get another entry point, instead of the current one-way-in, one-way-out.
The council said the negatives of airport noise, safety issues related to hundreds of residences being so close to aircraft taking off and landing outweighed the plan's positives.
Mayor Vanessa Fleisch and council members Mike King, Kevin Madden and Terry Ernst voted to deny the rezoning, meaning the applicant must wait six months to re-apply.
Councilman Phil Prebor is on a leave of absence from his council duties because of the illness of a family member.