Owner of Peachtree City's first village center determined to 'revitalize' it by installing a bowling-entertainment destination; 'city centre' idea 'somebody's pipe dream' — 
Sitting in a booth at his iconic Partners II Pizza restaurant a block from City Hall, owner Jim Royal explains why Peachtree City's original shopping center will not be torn down, a decision that will nullify a major part of Peachtree City's ambitious City Centre plan.
"About three weeks before something had to be done, me and Marilyn [Jim's wife] were talking and I said, 'I just don't want to do this. … Let's just kill the deal."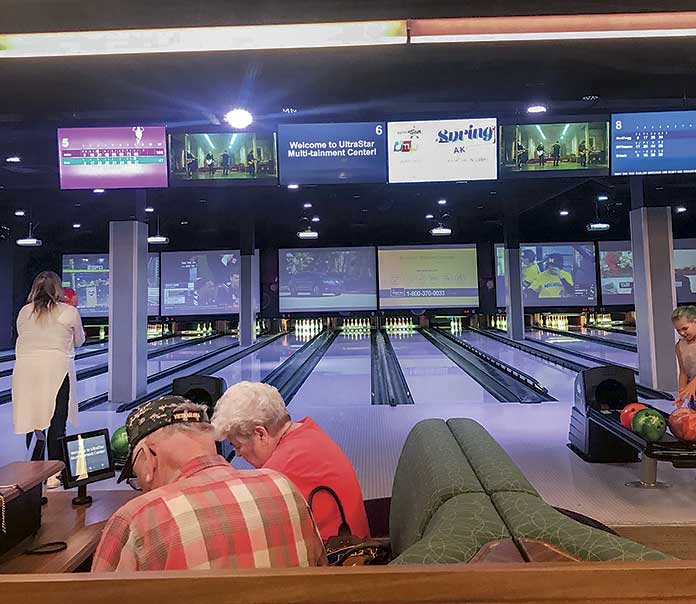 The "deal" was the ambitious cornerstone of what the Peachtree City Council has been touting as the new "city centre" that would have seen the current Aberdeen Center demolished and replaced with nearly 200 apartments in several multi-story buildings, a relocated and rebuilt Partners II combined with a bar plus enough retail space for a shop or two.
With Aberdeen Center now out of play, how the city will change its newly funded redevelopment plan [See  story about the ARC grant] is an open question.
"I just can't tear down this center," Royal said. "After 43 years of being here, I just can't do it."
The man who put the first pizza place into a town of under 2,000 residents in 1977 wants to continue in the building where he started.
Noting his 75th birthday and the walker he uses to get around because of back problems, Royal emphasized his desire to leave a legacy that city residents "can be proud of."
So instead of tearing it down, Royal is planning to refurbish the L-shaped shopping area and put in another first for Peachtree City.
"Something I've always wanted to do with that big space was to put a bowling alley down there," Royal said. "I've got enough room for six lanes of regulation bowling, and in the back I want to have six lanes of what they call duck pin bowling."
So for Southerners unfamiliar with duck pins, Royal explained it: "It's a shorter lane. The pins are a little bit wider, and your ball is a little bit bigger than a softball. And there's no finger holes in it. Up north, they've got 24 lanes of all duck pins."
Royal said the kids will like duck pins, and he is planning in a second phase an entertainment center for children where they can have birthday parties and play games at one end of the center, then move over to Partners II for pizza and dessert.
One thing about the bowling: "No leagues," Royal said. Lanes will probably rent by the hour, and he expects special pricing for senior citizens beginning around 11 a.m.. "We'll have a sign out front that says, 'No serious bowlers.'"
Now that he has bought out his longtime partner in the shopping center and now that selling the center is off the table by his own decision, one of Royal's hopes is that his "revitalization" of Aberdeen Center will improve his pizza business.
He said the increased competition of nearly 100 other eating places in Peachtree City has affected the city's one-time centerpiece of casual dining. "Our sales are really down quite a bit," Royal said. "So now we're fixing everything, and painting, and landscaping, and eventually we'll re-do the parking lot, get some more tenants in here."
Looking ahead, "Long range, once I put this bowling alley upstairs, I have room downstairs to add four more lanes, and this entertainment center," Royal said.
So what does Royal think about the City Council's ambitions for remaking the area near City Hall into a live-work-walk "city centre"?
"I don't know that's ever going to happen. That's somebody's pipe dream, in my opinion," Royal said. "I mean, the [First] Baptist Church is not going anywhere. '$23 million and we'll think about it.' Now the Presbyterian Church, they don't have that many members anymore and [a city centre buyout] would be great for them."
Royal said he thinks his bowling and eventually entertainment center will provide some much-needed leisure activities for Peachtree City. "There's nothing to do in this town, so people drive to Newnan, they drive to Fayetteville."
Provided there are no hitches getting city permits for the already-commercially zoned center, Royal expects to begin preparing the building for installation of bowling lanes and equipment this summer and hopes to have the first lanes in operation by October.
"Bowling will help revitalize this area," Royal said. "There'll be a lot more traffic, especially golf cart traffic." He praised the Farmers Market that convenes on Wednesdays and Saturdays in the center island most weeks. "That's good for the city," he said.
Partners II has five other locations besides its original Aberdeen Village Center restaurant: Braelinn Village in southern Peachtree City, Southampton Village in Tyrone, Summit Point in Fayetteville, Summergrove in Newnan and Main Street in Woodstock. But the Aberdeen location is his first, and that particular pizza place, Royal says, is staying put.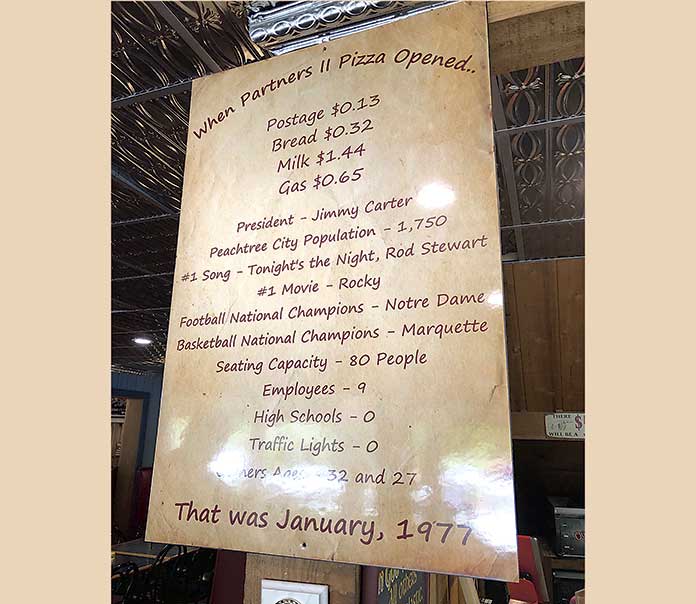 Here's what Partners II says about itself online:
"Jim Royal moved to Peachtree City from Lakeland, Florida in 1976. After spending five years on a submarine in the Navy, he had hoped to start something new. Partners II Pizza was born from an idea Jim had one day after he and his brother wanted to go to lunch in Peachtree City, quickly realizing that their dining options were very limited.
"It was in that moment Jim decided to utilize the RotoFlex oven he had kept from a previous restaurant in Florida and procure the vacant Brother's men's clothing store, located at the end of the Aberdeen Village Shopping Center.
"Partners II Pizza (there is no Partners I) was named only days prior to opening in January of 1977, its name inspired by the bar Jets quarterback Joe Namath owned in New York's Upper East Side called Bachelors III.
"Over the years, the original 45-seat restaurant with 10 original pizza toppings has grown into a 340-seat Peachtree City landmark with over 40 available toppings and the famous Potato Pizza. Jim and his wife Marilyn were married at Partners in January of 1991. While the ceremony took place in the third dining room, the restaurant remained open for regular business.
"Part of the success of Partners is the special dough Jim developed. The crust is crunchy, chewy and light and each is hand tossed to order. Partners uses a vertical cutting mixer that produces cheese crumbles instead of shreds, allowing us to use low moisture mozzarella that also happens to be low-fat.
"Many pizza restaurants try and distinguish themselves by coming up with a secret pizza sauce recipe, but it's no secret that we have used canned sauce from day one. Jim and Marilyn believe that if customers are satisfied with the current sauce then don't change it.
"We have developed our own recipes for Partners Special and Bleu Cheese salad dressings that have become locally famous and are highly revered."