WILLIAMSPORT, PA — As Tai Peete made his way to the dugout after his warmup session in the bullpen at Lamade Stadium he looked back at his catcher and yelled, "I hate being famous!"
---
Above, Peachtree City's Willis Maginnis tags a runner before throwing to first for an inning-ending double play. Photo/Brett R. Crossley.
---
Throughout Peete's warmup session, kids asked for baseballs, which he was all too happy to provide. The only problem was Peete ran out of baseballs and had to tell some kids he simply didn't have any more.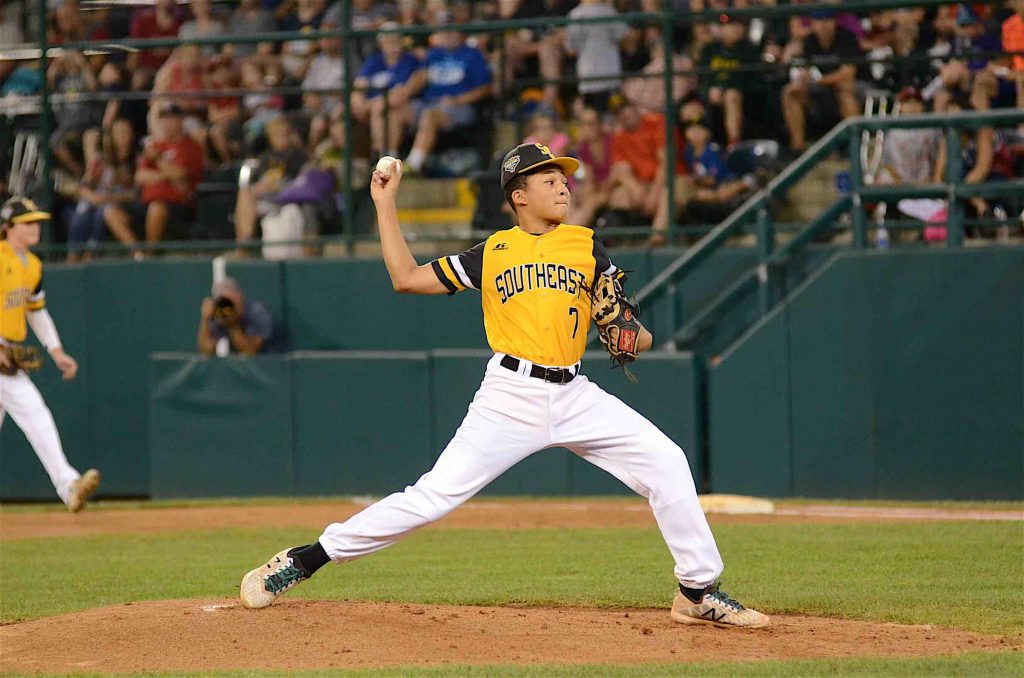 He might hate his new found fame, but he definitely doesn't mind adding to that popularity. In Saturday's elimination game of the Little League World Series, Peete tossed three innings of one-hit ball, recorded three hits, and added to his growing fame as Peachtree City knocked off the Northwest 3-0.
"Every time I went to the bullpen there were little kids who wanted the ball and if I didn't give them the ball they would cry and I would feel really bad," Peete said. "So, it's really hard being famous. I don't like it."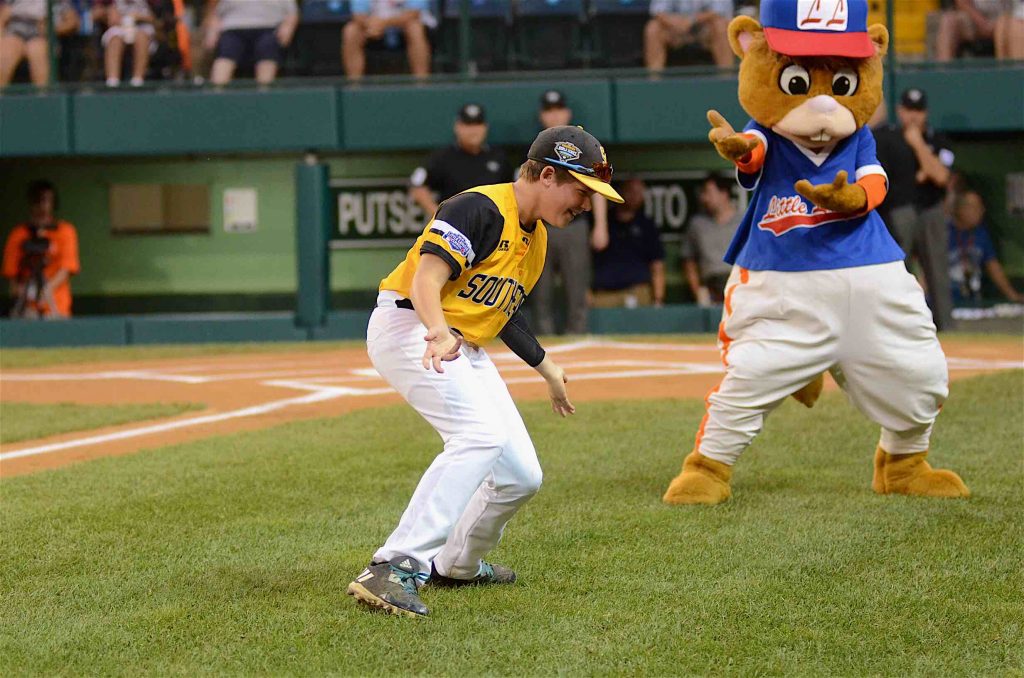 The legacy Peete is building continued to grow as Peachtree City progresses through the Series. He was outstanding in the game against the West, but topped that with a strong outing on the mound Saturday. He also finished with two singles and a double.
Peete gave up a single to open the fourth and was pulled in an effort to save him for Monday's matchup against either the Southwest or the Mid-Atlantic. Connor Riggs-Soper entered in relief and gave up just two hits over three innings as he closed out the game.
"I've probably seen Connor Riggs-Soper pitch more than any kid on this team," coach Kyle Ryan said. "He pitched against one of my sons over the year. He's always been one of those dominating kids in the league. He has a great fastball and he can spot it. We knew he was going to come in and throw strikes."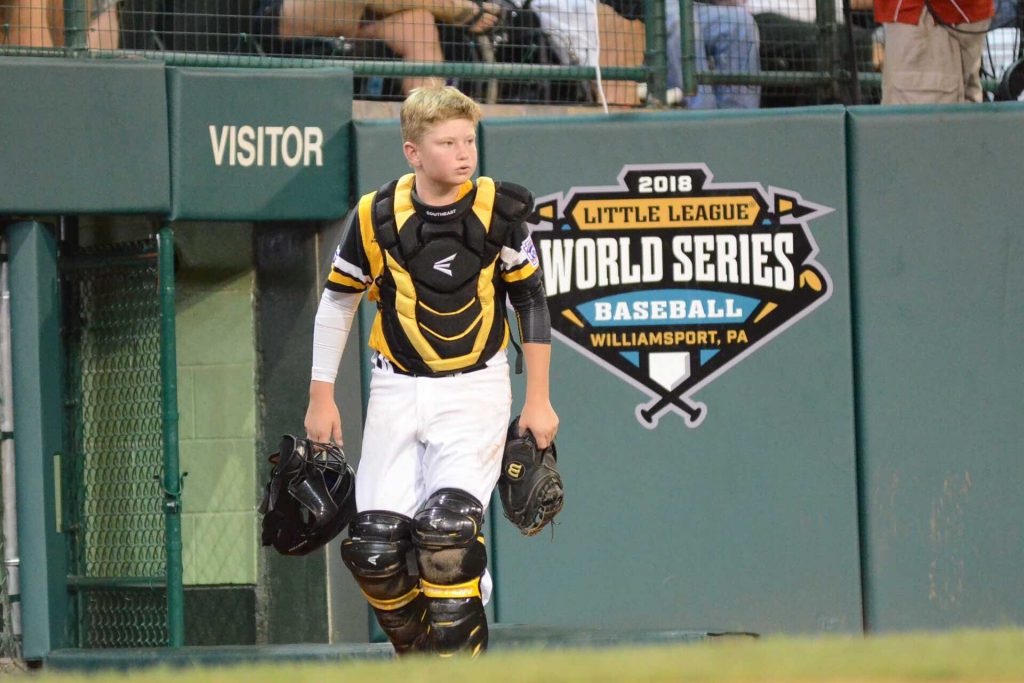 Chase Fralick caught the entire game one day after going all 11 innings in a game that tied for the most innings played. Despite the tall order, Fralick helped call another great game for both pitchers. He also connected with a double in the sixth to score a run after reaching on an error and scoring in the third inning.
"Chase had a really long day Friday," Ryan said. "I went into today thinking I would have to sub somebody else in at catcher. He came up to me before the game and said he wanted to catch."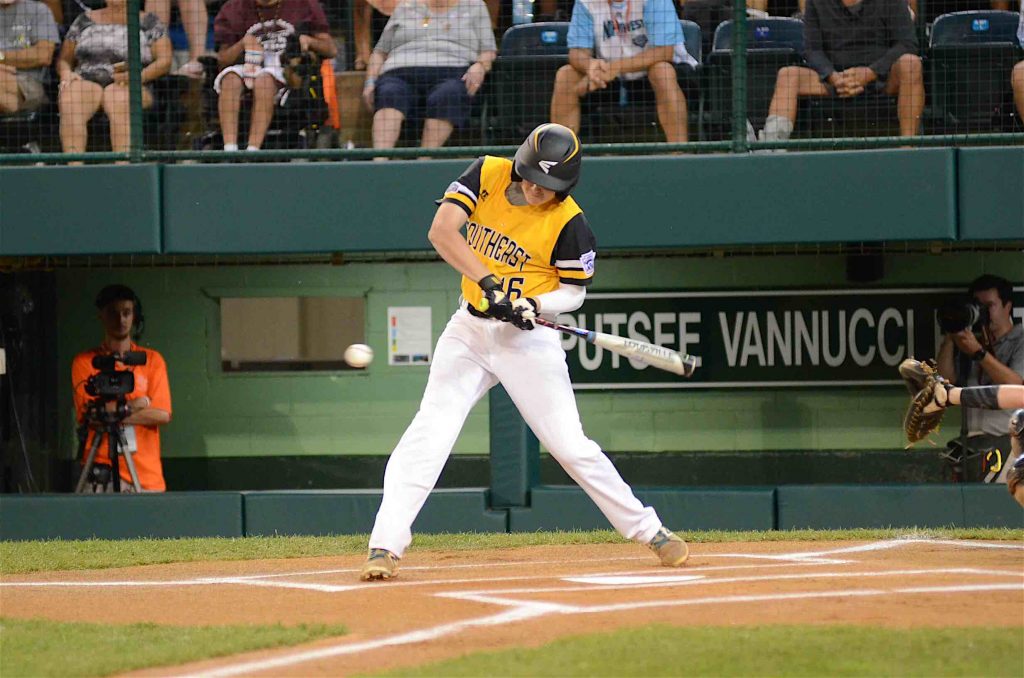 Fralick helped both pitchers as they combined for a three-hitter to keep Peachtree City moving in the tournament.
"I was crazy tired and I couldn't feel my legs," Fralick replied when asked how he felt after the 11-inning game. "I just went to sleep after the game. I knew I would be able to catch in this game. It was just a matter of will."
The Northwest elected to start Braeden Newby and they were rewarded for the choice. Newby struck out six batters, scattered eight hits, and gave up just one earned run in five innings of work. He issued first-pitch strikes to 18 of the 26 batters he faced. He also helped to cause Peachtree City to strand 10 batters in the game.
Fralick and Peete recorded back-to-back singles in the top of the first inning. Newby shook off the first two hits of the game and struck out Connor Riggs-Soper to end the inning. Newby gave up three hits in the second and ended the inning with a strikeout.
"His maturity has grown by leaps and bounds," Northwest coach Sean Cherry said. "He used to be a dirt-kicker and a shoulder hanger for part of the year and we've been working on the command of his emotions. He did that tonight. He rose to the occasion and he wiggled out of some really difficult situations."
Newby was pulled after the fifth for Alexander Currie, who recorded three strikeouts, but gave up a run when Fralick connected with a double to left field.
Offensively the Northwest struggled against the combination of Peete and Riggs-Soper. The pair combined eight strikeouts.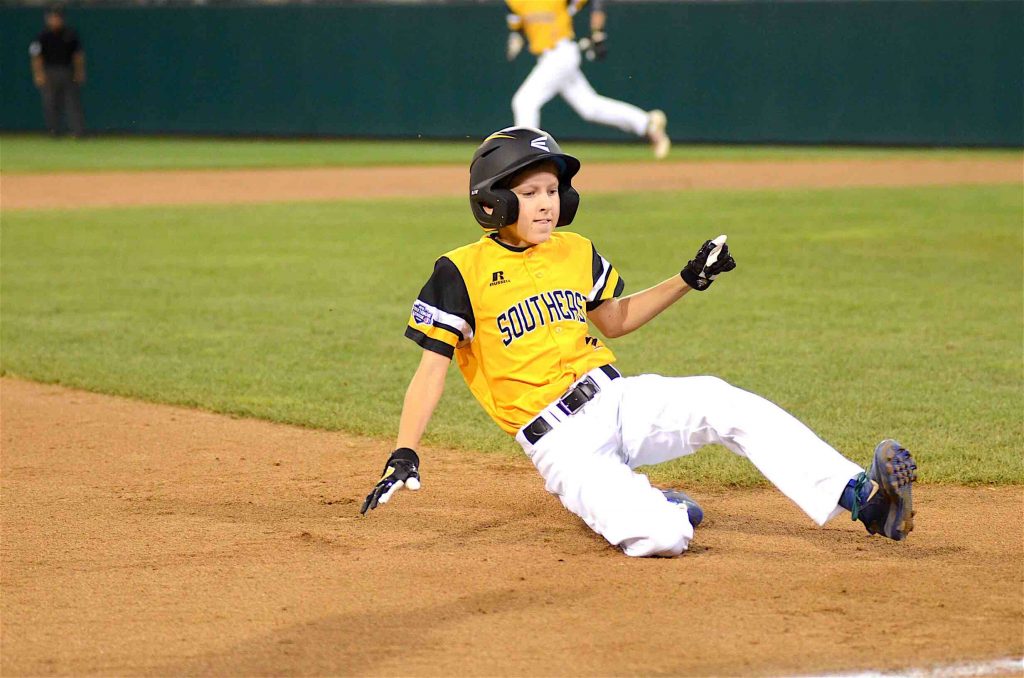 Peete, who has become a superstar in his own right over the course of two World Series games, carried a no-hitter into the fourth inning before Chase Saunders came off the bench and hit a single. Saunders also hit a single in the sixth to finish with two of the Northwest's three hits.
Peete, along with tossing three innings of no-hit baseball, proved to be a difficult out for the Northwest. He singled in the first before Newby fought back to end the inning. Peete hit a single in the third and a double in the fifth before Currie was able to get a strikeout on him to close out the top of the sixth inning.
"My pitching was good, because my defense was able to make the plays behind me," Peete said. "All-in-all it was pretty good. I have a lot of confidence."
====================================
Peachtree City 3, Northwest 0
SE 011 001—3 10 0
NW 000 000—0 3 2
Tai Peete, Connor Riggs-Soper (4) and Chase Fralick. Braeden Newby, Alexander Currie (6) and Avrey Cherry.
W—Peete. L—Newby.
Top Peachtree City Hitters: Tai Peete 3-4, double; Chase Fralick 2-4, double, run, RBI. Top Northwest hitters: Chase Saunders 2-2.
Records: Northwest 0-2. Peachtree City 1-1.
Next: Peachtree City vs. Southwest/Mid-Atlantic, Monday, 8 p.m.
Northwest vs. Europe/Africa, Tuesday, 11 a.m.
— Reported and photographed by BRETT R. CROSSLEY, Special to THE CITIZEN