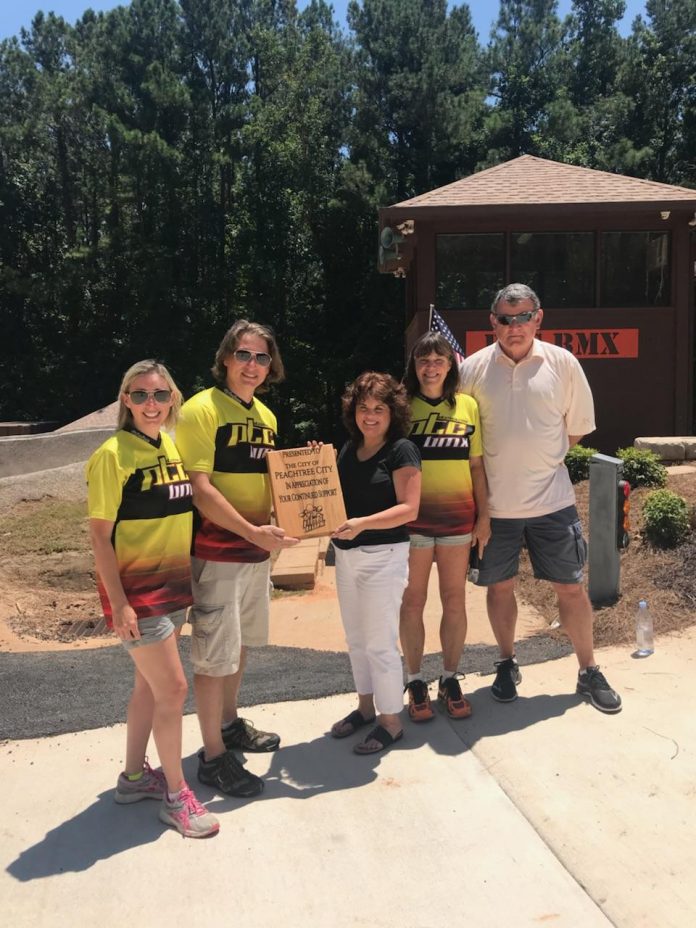 Peachtree City BMX officially reopened July 28 to excited race fans and happy city officials. The track had been closed for a complete renovation of the starting hill and resurfacing the four straights of the race course. 
After nearly 40 years in operation, the BMX track was in desperate need of a new starting hill and with the help of the parents' association, a new Pro Start safety gate for racing was specified and installed as well. 
Peachtree City Parks and Recreation took on the task of a complete rebuild under the supervision of the track operator, Shayne Robinson, lending her expertise along with blood, sweat and tears to bring the new hill, fully landscaped into reality. 
The fickle Georgia weather wreaked havoc on the demolition, concrete and installation schedule, but somehow the renovations came together just in time for the fourth installment of the exclusive Peach Series race for PTC BMX. 
The new hill and fully electric Pro Start safety gate, which is UCI (Union Cycliste Internationale) certified, is only the third of its kind in the US. The other two are in Missouri and Florida. The barrel-style safety gate will allow PTC BMX to expand opportunities to learn about BMX racing within the community and beyond, attracting riders from as far away as Maryland and Kentucky to travel for racing in Peachtree City. 
For more information about the Peachtree City BMX track and programs, visit www.ptcbmx.com or the organization's Facebook page.
In the above photo: Lizz and Chris McKay, Mayor Vanessa Fleisch, BMX track operator Shayne Robinson and council member Mike King.