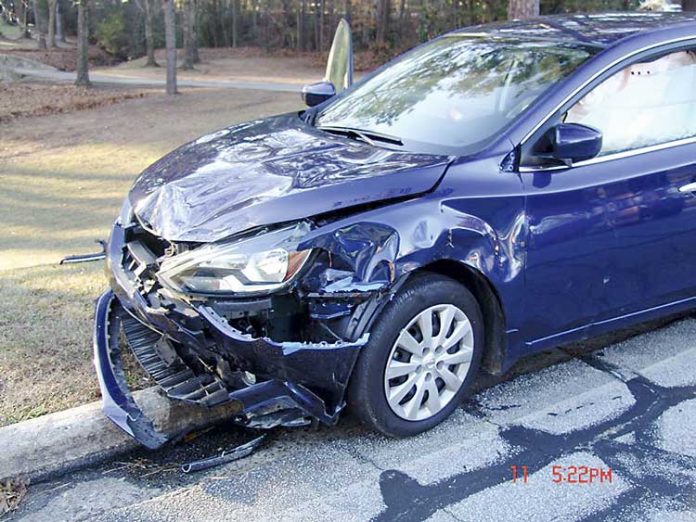 A Dec. 13 collision in Peachtree City between a car and a golf cart should serve as a reminder to cart owners that property damages and medical expenses stemming from accidents off the cart owner's property are not covered by homeowner's insurance.
---
Above, Peachtree City police hope that a Dec. 11 collision between a car and a golf cart will serve as a reminder that homeowner's insurance does not cover golf cart accidents when those vehicles are off their property. Photo/Peachtree City Police.
---
Occurring at City Hall on Willowbend Road, the driver of the cart was transported to the Atlanta Medical Center. There were no other serious injuries in the accident.
The number of golf carts in Peachtree City translates into an enhanced potential for collisions with vehicles.
"Many golf cart owners are not aware that their homeowner's insurance does not cover any medical or property damage expenses on the golf cart while off their property," said police department spokesperson Odilia Bergh. "Both vehicles had to be towed due to the damage and multiple air bags were deployed in the sedan. As you can imagine, it can be quite expense to repair the damage to these vehicles and pay the associated medical bills. Without motorized cart insurance, restitution is obtained through a civil lawsuit that is paid out of pocket."
Bergh said motorized cart insurance is relatively inexpensive (around $100 a year for comprehensive/medical/uninsured motorist coverage) and can provide peace of mind as residents travel the paths of the city.