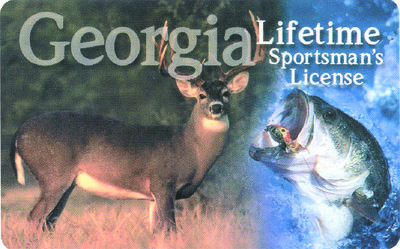 Is there an outdoors enthusiast on your holiday gift list? Before heading to the stores, the Georgia Department of Natural Resources' Wildlife Resources Division wants you to know about a gift that is sure to please all hunters and anglers. As an added bonus, this gift benefits the wildlife and wild places they enjoy.
A lifetime license or annual hunting or fishing license gives access to the great outdoors, and provides support for Georgia wildlife and state-managed lands.
With a lifetime license, the Georgia resident hunter or angler on your gift list will not need to pay for another state hunting or fishing license – ever. From hunting trophy whitetails to casting for lunker largemouths, their cherished recreation in Georgia is covered.
Prices are set by age group. The best bargain is for children (resident or non-resident): $200 for under 2 years old; $350 for residents aged 2-15; and $1,000 for non-residents 2-15.
Resident licenses for 16 to 59 years of age are $500. Discount lifetime licenses for those 60-64 are $95.
Residents 65 and older can receive a free lifetime license, with an option to pay a one-time fee of $10 for a durable, commemorative plastic card.
A veteran lifetime license is $400.
Applications and document details are at www.georgiawildlife.com/LifetimeLicense.