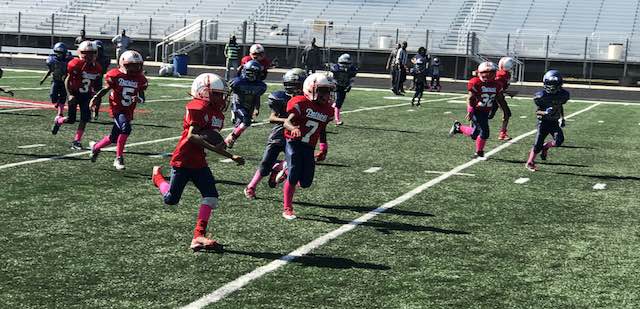 Eight years ago when the Sandy Creek Youth Foot- ball Association played its first season, there were aspirations for positive long-term impact.
"We want to build a desire from the children of the community to be 'Patriots for life,'" said Sandy Creek High School head football coach Chip Walker. "We want them to grow to love Sandy Creek and want to be Patriots before they arrive at Sandy Creek."
That vision has been successful, as reflected in some of the program's present and former athletes.
"I enjoy the stunts and tumbling. I really enjoy go- ing out with my teammates socially and making new friends," said Junior Patriot cheerleader Janay Latimer. "Most of all, I enjoy being a Sandy Creek Patriot."
Her entire family is enjoying the experience. Her mom, Kwanza, is a team mom and board member. Her dad, Geimere, is the head coach of the 11-under football team. Her older brother, Geimere, Jr., is the starting quarterback for that team. And the brother just above her, Amari, is a member of the 8-under team, one of three teams from SCYFA to have qualified for this year's playoffs along with the 7-under and 9-under squads.
"It feels good to know that your team is going to win," said James Fason, another member of the 8-under team. "When we do win, it isn't surprising because we believed. We all have a very strong belief system."
Fason is also a member of the Drive Phase Track Club and one of 27 All-Americans that team produced this year. When asked if he liked track or football better, he replied, "I like track better and track makes me a better football player."
"We follow our motto: discipline, pride, commitment, and win. That's what we do," said Antwon Ferrell, head coach of the 8-under team when asked about the key to its success.
The pipeline to the high school program is already evident.
"The current varsity football team has over 30 players who came through the Sandy Creek Youth Football League," said SCYFA president Vic Bolton. "The cur- rent seniors won the Super Bowl when they were 12 years old. Our first graduating class from the SCYFA was in 2016. They also won the 12-under Super Bowl and we had 20 players from that group who won academic and/or athletic scholarships to college. Our goal is to turn our students into quality citizens who have something positive to contribute to their community."