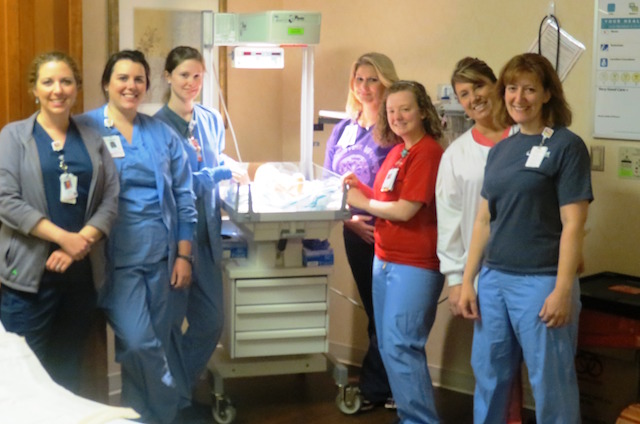 This month marks the tenth anniversary of women's services at Piedmont Fayette Hospital. To date, approximately 19,500 babies have been delivered at the hospital.
"Some groups outside of the community predicted that we would be a very small unit with little to no growth," said Leah Leslie, who was the first employee hired in Piedmont Fayette's women's services department. "The first day, we delivered three babies. By the end of the year, we had delivered 100 babies and by the following year we were looking for more space and expanding out to the west tower of the hospital."
Initially, there were three labor and delivery rooms with five mother-baby rooms, two triage rooms, two C-section rooms and five nursery level two beds with a holding nursery. Much of the staff was hired several months in advance and when all the furniture for the unit arrived at once, the staff bonded by putting it all together and getting their department ready. Today, the department has 12 labor and delivery rooms, 24 mother-baby rooms, three operating rooms and a 20-bed Level III neonatal intensive care unit.
"I knew there would be great demand because Piedmont Fayette always outperforms expectations," said William Cook, MD, former chairman of the hospital's board of directors. "Our goal was to compete with the quality from metro level hospitals and I knew we could do that if we planned for 2,000 or more deliveries a year."
Only 20 babies were delivered in September 2006, when women's services first were offered at Piedmont Fayette. Today, the team at Piedmont Fayette delivers close to 2,500 babies per year and also care for approximately 250 babies each year in the Level III neonatal intensive care unit.
"I must say that our department growth could not have happened successfully without the commitment of the hospital to bring tertiary neonatal care to this community," said Mironda Williams, MD. "As obstetricians, we did not want to send our potentially sickest patients to be cared for elsewhere by other physicians because their newborns would potentially need specialized care as well. I really do believe that you reap what you sow and the evidence shows that good seeds were planted 10 years ago that continue to bring the harvest."
There have been many highlights for women's services over the years including the recent opening of the obstetrics emergency department which is open 24 hours every day to patients needing to be evaluated by an OB/GYN.
"This service provides a high level of care to our patients and improves patient safety, patient satisfaction and the outcomes for our mothers and babies," said Tracie Delally, director of women's services at Piedmont Fayette. "In the short period of time since it has been opened, we have seen an increase in patient satisfaction, but also nurse satisfaction."
Perhaps one of the best illustrations of the success of the department is how many employees who were there at the beginning are still there today.
"I will never forget the first day we opened," said Shannon Deaton, clinical manager of labor and delivery. "I admitted our very first patient who was a scheduled induction. We were all so excited to finally have our first patient, everyone jumped in to help get her admitted. We had fun 10 years ago and we still have fun today. I am proud to say that I have been here since our doors first opened."
Lori Bissantz, RN, helped on the first C-section on the day the department opened with Dr. Cook. Heather Cantrell performed the first delivery by midwife at Piedmont Fayette in January of 2007.
"In the last 10 years, I have had the honor of watching the number of midwifery deliveries increase at Piedmont Fayette," said Cantrell. "I am proud to work alongside some of the best nurses, physicians, and techs and look forward to seeing what the next 10 years hold."
The public is invited to come out Saturday, Sept. 24, 2-5 p.m. to celebrate 10 years of Women's Services at Piedmont Fayette Hospital. The event will take place near the Cole Family Plaza on the west side of the hospital.