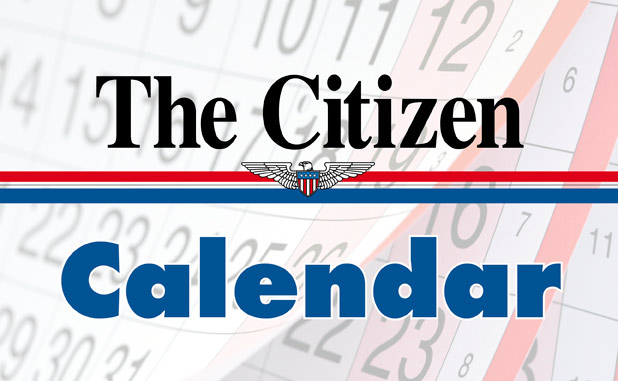 Things to do
July 28
"Farm to Table Living" is scheduled from 11:30 a.m.-2:30 p.m. at Fayette Senior Services' Fayetteville location (The Life Enrichment Center, 4 Center Drive).
The farm-to-table way of thinking focuses on using extremely fresh ingredients that have been barely modified, sometimes presented raw just a few feet from where they grew. Learn about the health benefits of embracing this philosophy with an emphasis of freshness, seasonality, local availability, and simple preparations. Speakers include: Tricia Stearns – Director of PTC Farmer's Market, a Dietician with Diabetes Association of Atlanta, Scott Tyson – Owner of 180 Degree Farm, Lisa Stillman – Dietician with Alpha Internal Medicine. This program is $15 and includes lunch. Pre-registration is required and payment must be made at the time of registration. Phone 770-461-0813 or stop by any location to register. FSS members and non-members welcome. For more information visit www.fayss.org.
Larisa McMichael, the leader of the Newnan Storytellers, has announced that the next meeting is today at 7 p.m. at the McRitchie Hollis Museum, 74 Jackson St. in Newnan. The meeting is open to anyone interested in storytelling. Anyone who wishes may tell a story. Any theme is acceptable but it is suggested that the story be a Brer Rabbit Tale, an American Tall Tale or a USA Patriotic or Travel story.
For information about Newnan Storytellers, phone 678-416-3121.
July 29
"Not Just Any Fat, The Right Fat" is scheduled for Friday, July 29, 1-2:30 p.m. at Fayette Senior Services' Peachtree City location (The Gathering Place, 203 McIntosh Trail).
Get the scoop on healthy options for including fat into your diet from Dr. Delores Davis with Better Health Concepts. Learn why low fats and carbs vs high fats and carbs diets don't work and the best mix that works for you. This session will include a tasting of infused olive oils and balsamic vinegars and a couple of combinations to take home as well as handouts.
This program is $15 and includes materials and tasting. Pre-registration is required and payment must be made at the time of registration. Phone 770-461-0813 or stop by any location to register. FSS members and non-members welcome. For more information visit www.fayss.org.
The Peachtree City Library invites residents of all ages to come out and say goodbye to the Summer Reading Program with Yoga & Yogurt today at 10:30 a.m. at Picnic Park.
Attendees will be able to get fit and flexible with a free yoga class courtesy of the Piedmont Fayette Fitness Center. Afterwards they can cool off with some delicious frozen yogurt .Yogurt is $2 per cup. Attendees are asked to bring a large towel or mat for yoga class; however, there will be extra mats available on a first-come, first-served basis. Bring the whole family – all ages and fitness levels are welcome. The event is free and open to the public.Although it is not required, the library asks that interested persons RSVP at www.peachtreecitylibrary.eventbrite.com.
July 30
The Newnan Citizen Academy will begin registration today. The deadline for registration is Aug. 31. The academy is conducted annually in the fall. This year it will begin Sept. 13 and go through Oct. 25. The academy is a series of classes for citizens to educate and inform the citizens of Newnan about every aspect of city government in Newnan. The course will be an intensive, hands-on program on how city departments operate and how critical decisions are made that affect the quality of life in Newnan.
Participants are given the opportunity to tour city facilities and hear directly from department managers, professional staff, and elected officials. Gina Snider, the city's public information officer, will be the ambassador for the academy. There is a limit of 30 participants accepted into the academy each year. To register or for more information, contact Gina Snider at gsnider@cityofnewnan.org or 770-253-2682 ext. 203.
The Fayette County public school system's annual Back to School Expo is today from 9 a.m.-1 p.m. at the county government complex, 140 Stonewall Avenue West in Fayetteville Other sponsors include the Georgia Department of Public Health, Children's Healthcare of Atlanta, and Fayette FACTOR. This informative event offers on-site immunizations and health screenings, opportunities to sign up for lunch, tutoring, enrichment, and after-school programs, fingerprinting and safety checks, information on PTO and volunteer opportunities, and much more.
August 1
Eligible blood donors are urged to schedule a donation today in conjunction with the blood drive scheduled for 1-6 p.m. at the Senoia United Methodist Church.
Walk-ins are always welcome at this drive, which is co-sponsored by the local church and the Senoia Optimist Club.The American Red Cross issued an emergency appeal July 5 asking eligible blood and platelet donors to give as soon as possible. The upcoming blood drive is for the Senoia area and beyond, and it will be held in the Fellowship Hall of the Senoia United Methodist Church, 229 Bridge Street. If you would like to learn how you can help in this or another worthwhile project sponsored by the Senoia Optimist Club, contact senoiaoptimistclub@gmail.com or Club President Phil Downey at 770-833-9242. If you would like more information about the Senoia United Methodist Church, visit http://senoiaumc.org/ or call the church office Tuesdays, Wednesdays, and Thursdays between 9 a.m. and 3 p.m. at 770-599-3245.
August 6
The Bow Wow Meow Adoption Luau is today from 10 a.m.-3 p.m. at Coweta County Animal Control, 91 Self Road in Newnan. It is a fun, Hawaiian-themed sponsored pet adoption event designed to clear the Coweta County shelter of 200+ animals. Co-hosted by the Newnan-Coweta Humane Society and Coweta County Animal Control, the event is free to attend, has free parking, and is family-friendly. Pokemon Go players welcome. Food, games, raffles, door prizes, a live radio broadcast and more. Donated bags of cat and dog food welcome.
Renters planning to adopt must bring written pet authorization from landlord. Most adopted pets do not go home same day. They are released after spay/neuter surgery. Advance visits to animal control are encouraged. For more information, visit www.nchsrescue.org.
Peachtree City Recreation and Special Events is hosting the second annual Back to School BASH today at the Glenloch Recreation Center.This free event gets started at 6 p.m. with fun activities such as Doodle the Clown's comedy balloon twisting, open swim in the Glenloch pool, slot car racing, rock climbing, face painting, inflatables, music, and more.
Dance and fitness demonstrations will be offered, and food will be available for purchase.When the sun sets, families are invited to spread a blanket on the lawn to enjoy Disney's "Inside Out" on a giant outdoor screen.
The Fayette County Marshal's Office, in conjunction with the Georgia Department of Natural Resources, will host a boater education class today from 8 a.m.–5 p.m. at the Fayette County Administrative Complex, 140 Stonewall Ave. W. in Fayetteville.This course satisfies the legal requirements passed 2014 requiring everyone born in 1998 or later who operate any motorized vessel on state waters to complete a boating education course. The course is also very beneficial to boaters of many skill levels, covering different types of boats, safe operation, legal requirements, and how to handle emergencies. The course is free, but is limited to 30 participants. Sign up at https://events.gooutdoorsgeorgia.com/Events/ViewEvent.aspx?id=1822 (you will need to create an account). Questions? Contact Sgt. Lem Miller, Fayette County Marshal's Office, 770-305-5198.
August 7
Mick Brandenberger will give a brief presentation about his paintings today at 1:30 p.m. in the Storytime room of the Peachtree City Library.
He and fellow artist Julie Nestor will be on hand at 2 p.m. for "Meet the Artists," when both can be found in the vicinity of their art exhibit near the library's front entrance. For more information, contact Rebecca Watts, adult services librarian, Peachtree City Library, at 770-631-2520.
August 12
The 2016 Atkinson Arnall Tribute Dinner is scheduled for today at 7 p.m. at the Newnan Centre. The keynote speaker will be Atlanta Journal Constitution's award-winning political cartoonist Mike Luckovich. U.S Senate candidate Jim Barksdale, state Rep. Robert Trammell, and County Commissioner Al Smith will also be Tickets for the 2016 Atkinson Arnall Tribute Dinner are $50 each. The dinner will be preceded by a cash bar cocktail hour featuring the musical stylings of Nichelle Young. Tickets are available now through PayPal at www.cowetademocrat.com. Checks made payable to the Coweta County Democrats can be mailed to P.O. Box 276 Newnan, GA 30264.
For more information email chair.cowetadems@gmail.com or phone 678-895-0370.
August 13
The Fayette County government is announcing its third event for local residents with kayaks and canoes to assist with cleaning water reservoirs. The program is called Water Guardians and the lake cleanup is today from 8:45-11 a.m. at Lake McIntosh reservoir in Peachtree City. Please arrive by 8:45 a.m. in the boat dock parking lot off of TDK Blvd. Each new volunteer that registers with waterguardians@fayettecountyga.gov by Aug. 1 will be given a Water Guardian T-shirt at sign-in to wear during the event. Each volunteer will be provided a trash grabber, trash bags and bottled water. Please note that a liability waiver will be sent to all volunteers and must be completed in order to participate. This also applies to previous volunteers. Please remember to bring your waiver, life vest, sunscreen and a hat the day of the event. In the case of rain, all registered participants will be notified via email with a rescheduled time and date. Thanks to the generous support of the Fayette County Water System and our volunteers, we will be hosting a cookout after the cleanup. Please plan to stay and enjoy burgers, hot dogs, and other treats.
To register for this event, send an email to WaterGuardians@fayettecountyga.gov and include your name, daytime phone number, contact email address and T-shirt size.
In the event of rain, a makeup date will be given by email.
August 15
"Zapping Zika" is today at Fayette Senior Services' Peachtree City location (The Gathering Place, 203 McIntosh Trail).Robert Kurbes with the Fayette County Health Department educates us on what we need to know and what to expect from the mosquito transmitted Zika Virus. Learn about the potential risk or appearance in Georgia in addition to ways to protect yourself against mosquitoes with helpful homeowner and safeguard tips.
This program is free but pre-registration is required at 770-461-0813 or register@fayss.org (include name, phone number and event title). FSS members and non-members welcome. For more information visit www.fayss.org.