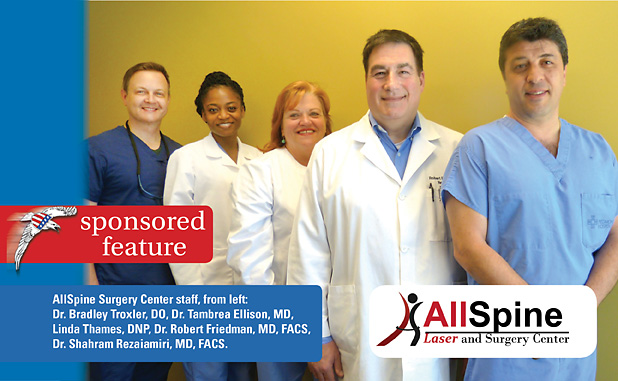 Sponsored Feature
Many people dread the idea of surgery, especially when it comes to the spine. Yet neck and back pain are surprisingly common and can be debilitating. The good news from AllSpine Laser & Surgery Center is that not everyone needs surgery – and those who do may have effective, minimally invasive options that involve fewer risks and reduced recovery times.
"We believe in choosing the most conservative, least inva-sive approach that will work for the patient," says Dr. Shahram Rezaiamiri, M.D., F.A.C.S. "Our goal is to avoid surgery if possible – and to minimize it if not."
The practice's providers perform an array of treatments including laser spine surgery, mini open cervical fusion, vertebroplasty, transforaminal endoscopy, and more. They also provide migraine management and treatment for auto accident injuries, spinal cord compression, spinal cord tumors, and spinal diseases as well as for basic conditions such as back spasms. The key, they say, is find-ing the right treatment for each individual patient.
"Too often, people opt for surgery because they think it will be a permanent solution, a cure," says Dr. Rezaiamiri. "But chronic pain can't always be cured. If surgery isn't the best choice, and a patient chooses it anyway, they can end up with more problems than they had before the procedure. That's why we say our goal is pain management. We can help most patients manage their conditions in ways that dramatically reduce the frequency and intensity of pain while improving quality of life significantly."
AllSpine uses a multi-specialty approach, meaning that several types of providers work together to seek the best possible patient outcomes. Dr. Rezaiamiri, the practice's senior neurosurgeon, was the first doctor in the south metro area to perform minimally invasive spinal discectomy and fusion, and is one of the few in the country who perform the XLIF technique, a new, minimally invasive spinal fusion method. Neuorosurgeon Dr. Robert Friedman, pain management specialists Dr. Bradley Troxler and Dr. Tambrea Ellison, and nurse practitioner Linda Thames round out the practice and are supported by a highly-trained, committed staff of administrative and clinical professionals. New patients are accepted at all four locations: Newnan, Fayetteville, Stockbridge, and Atlanta.
"We're problem-solvers," Dr. Rezaiamiri says. "Virtually all our patients come to us with back or neck pain – or with limb pain related to back or neck injuries or conditions. But that doesn't mean all our patients are the same, so we don't use a cookie cutter treatment plan. We look at the individual patient, find the cause of pain, then consider factors like other conditions and lifestyle. Then we develop an individualized treatment plan to specifically fit the patient's situation."
Dr. Rezaiamiri points out that patient education is a priority at AllSpine. In fact, "inform and educate" is part of the practice's pledge to patients.
"We feel it's important for pa-tients to truly understand their conditions first," he says. "If you don't understand the problem, how can you understand the treatment? When the doctor takes time to explain the issue and to explain how and why the prescribed treatment works, the patient sees much better outcomes because they can be an informed part of the process. This is especially true when treatment includes things like physical therapy and lifestyle changes."
At its core, AllSpine is focused exclusively on helping patients live better, happier, healthier lives. They've pledged to operate with honesty and transparency and treat all patients with ultimate respect."
The strongest statement I can make is this," Dr. Rezaiamiri says. "We advise the treatment for each patient that we would advise for a family member – or that we would choose for ourselves."