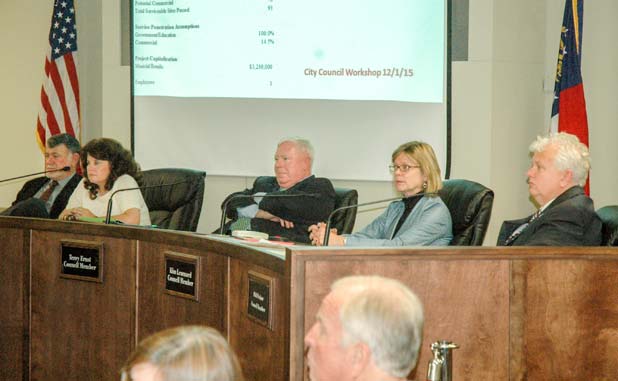 A decision on golf cart fees for residents and non-residents of Peachtree City was finally made at the Jan. 7 meeting of the Peachtree City Council. The decision on a 3-2 vote raises the fees for city and non-city residents and abolishes the reciprocal agreement with Tyrone.
The vote on the measure was 3-2, with Mayor Vanessa Fleisch, Councilman Mike King and Councilman Phil Prebor voting in favor and Councilwoman Kim Learnard and Councilman Terry Ernst opposed. The main sticking point for Ernst and Learnard dealt with the non-resident fee increase and the elimination of the reciprocal agreement with Tyrone.
The current fee for city residents is $12 for up to five years and will increase to $45 for a three-year registration, essentially $15 per year.
The current fee for non-residents is $60 per year. Cart owners living in Tyrone are not charged with non-city resident fee under a reciprocal agreement between the two municipalities.
The vote increased the non-resident fee to $100 per year, including residents of Tyrone. An annual registration of $15 will be in addition to the non-resident fee.
The topic on fees has been discussed at several meetings and a fee of $15 per year for city residents, or $45 based on a three-year registration, was included in the FY 2016 budget adoption.
The 2016 budget provides for a total of $1.7 million for multi-use paths. That equates to .9 mills or $97.16 in property taxes for a home valued at $269,000.
The council when adopting the FY 2016 budget last summer noted that the budget would provide for an additional $225,000 for cart path work bringing that total to $665,000, some of which could be offset by the increase in cart registration fees which would be raised to an annualized figure of $15.