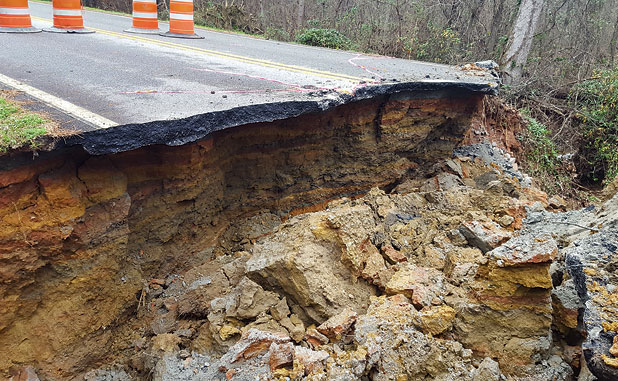 Forget white Christmas. It was a muddy Christmas holiday season as a foot of rain drenched Fayette County from Christmas week through New Years, washing out several roads while affecting nearly a dozen others. Some of those roads are open while others remain closed, with repair work expected soon.
Fayette County Public Works Director Phil Mallon on Monday said the southern portion of Fayette County received 12 inches of rain during the 11-day period that began Christmas week. North Fayette also experienced plenty of rain, though only one of the 10 roads directly affected by flood waters was located on the north side of the county.
Mallon said a number of Public Works employees asked to work on Christmas Eve and again on Christmas Day to help battle the waters that washed out culverts and, in some cases, the roadways they served. Even more staff worked over Christmas weekend to address the road damage, Mallon said.
"I'm very proud of the work done by the road department and Brent Scarbrough who took the lead on Canterbury Lane," Mallon said.
Heavy rains and flooding caused a Christmas Eve wash-out of Canterbury Lane off Ga. Highway 92 south of Fayetteville.
Fayette County Fire and Emergency Services (FES) Deputy Fire Chief Tom Bartlett said approximately 60 homes in the Chanticleer subdivision were affected after a portion of Canterbury Lane washed out.
Mallon on Monday said the work on Canterbury Lane is essentially complete.
Mallon said Old Senoia Road and Bernhard Road experienced erosion of the upstream side and received a temporary fix using flowable fill, a low-strength concrete, to fill the voids.
Portions of McBride Road, Rising Star Road and unpaved Morgan Road remain closed and detours are posted, said Mallon.
Mallon said he hoped to have work on Lowery Road (with one lane currently open), Bernhard Road and McBride Road (a complete wash-out) go to bid this week with the bid awarded in late January.
A portion of Morgan Road was a complete wash-out, Mallon said with the expectation that county staff will make needed repairs as soon as possible. Morgan is accessed by Inman Road in Fayette and Northbridge Road in Clayton County.
Westbridge Circle in north Fayette was also down to one lane, with the repair to that portion of the road expected to be addressed later this week, said Mallon.
County staff are keeping an eye on Antebellum Way, Old Senoia Road, Lee's Mill Road and Rising Star Road, said Mallon. The county expects to obtain the services of a consultant to evaluate those area and make recommendations for long-term solutions.
Mallon said crews inspected numerous culverts across the county during and after the flood event. He encouraged residents living near culverts to report any issues they observe since not all culverts are visible from the roadway.
Working behind the scenes during the flood event were a number of other people. Among them were personnel from Fayette County Fire and Emergency Services and the Fayette County Sheriff's Office.