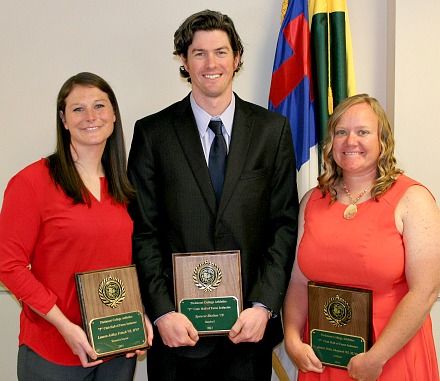 The Piedmont College Letter Club recently inducted Peachtree City resident Spencer Shelton ('10) into its Sports Hall of Fame.
Shelton was honored April 11 during Alumni Weekend activities and shared the event with two other inductees — Lauren Fritsch Goza ('05, M'07) of Dahlonega, and Jenni Deitz Shepard ('03) of Mt. Airy.
Shelton was a four-year starting pitcher for the baseball Lions and was the 2007 Great South Athletic Conference All-Freshman selection and the 2009 Pitcher of the Year. He was a three-time All-Conference selection and in 2010 signed a professional contract with the Chicago White Sox organization, pitching one year with the Bristol White Sox (now Pirates). He earned a BA degree in business administration in 2010.
Goza was a four-time All-Conference soccer player for the Lady Lions and a team captain for three years.
Shepard earned GSAC softball All-Conference honors as both an outfielder and a catcher. She was a two-year team captain and named to the National Fastpitch Coaches Association and the NCCAA All-Academic Teams.