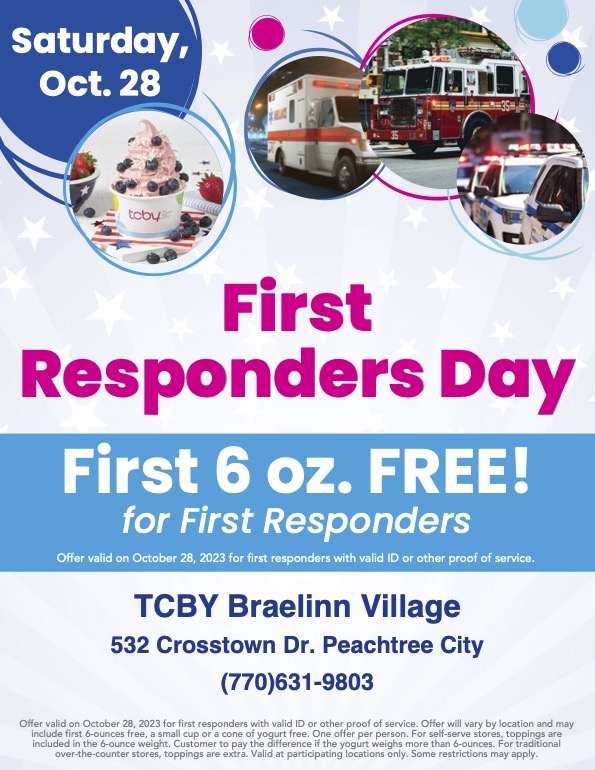 SPONSORED
Local TCBY Joins in First Responders Day Celebration, Offering Free Frozen Yogurt to Local Heroes
Peachtree City – Your neighborhood TCBY (The Country's Best Yogurt), the original and most iconic frozen yogurt brand globally, is proud to participate in the First Responders Day celebration by extending a thank you to our local heroes. On Saturday, October 28, 2023, TCBY will be offering local first responders six ounces of free frozen yogurt in-store.
"First responders embody bravery and selflessness, working tirelessly to ensure our communities are safe," said Steve Walsh, local TCBY Braelinn Village, franchisee. "Now, it's our turn to express a small gesture of appreciation by offering them a complimentary treat. We eagerly anticipate celebrating our local first responders at TCBY and hope the community will join us in showing our gratitude."
TCBY Braelinn Village is conveniently located at 532 Crosstown Dr, Peachtree City. For inquiries, guests may contact TCBY Braelinn Village at 770.631.9803. For additional information about TCBY, please visit www.tcby.com. Be sure to like TCBYPTC on Facebook and follow us on Instagram to stay updated on what's swirling.
About TCBY:
TCBY is the original and most well-known frozen yogurt brand, leading the market in nutrition, taste and product quality. With over 40 years of experience, TCBY is a successful model that has fueled the growth of a thriving industry. TCBY offers an extensive product line, including low-fat, fat-free, or no sugar added options. TCBY launched its unique frozen yogurt classification "Super Froyo" in 2011.  TCBY was also the first brand to market Greek Frozen Yogurt. TCBY and Mrs. Fields are part of Famous Brands International, which has over 350 stores worldwide. For more information, visit www.tcby.com or www.tcby.com/franchise/.