 Joy Jeanette Garde, 83, passed away on August 3, 2023, at Southwest Christian Care Hospice in Union City, Ga. after a brief illness.
Joy (Johnson) Garde was born in Ridgewood, New Jersey on July 5, 1940, to John and Victoria (Mann) Johnson. She grew up in a home her grandfather built, surrounded by family and the close-knit community that was Wyckoff, NJ in the forties and fifties.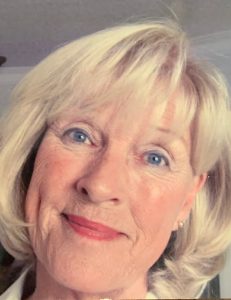 She graduated from Ramapo Regional High School, class of 1958, and soon after met and married Jere Garde. Jere's career with Mercedes-Benz Corporate took their family from New Jersey to San Francisco, Los Angeles, Chicago, Jacksonville, Florida, and back to New Jersey, where their lives began.
They ultimately landed in Peachtree City, Ga after being granted a Mercedes-Benz franchise. Along the way, Joy found and made lifelong friends who became family. She often said that moving so much taught her to bloom where she was planted, and she took pride in the fact that she was always able to meet and find a sense of belonging for both herself, and her children in each new locale. Joy made every house they lived in a beautiful home. She spoke with fondness of each of the places she lived in as Jere climbed the corporate ladder.
Joy took her role as mother and homemaker as seriously as any CEO of a fortune five hundred company. Whether it was keeping an immaculate house, volunteering with her children's activities, and making sure her three sons were not only fed, clothed, educated, respectful and responsible, but also well loved.
As her boys grew up, Joy found time for her own hobbies and pursuits. When it became apparent that her children would be spending most of their free time at the golf course, she took up the game as well. She loved the ladies' groups she played with at Hidden Hills (Jacksonville) as well as Flat Creek (Peachtree City) and continued to play for decades.
At her heart, though, Joy was an artist. Most of her family and friends possess something she painted, knit, sewed, or needlepointed. Her beautiful works of art are heirlooms they treasure.
In her later years, Joy learned to play the dulcimer and joined "The Peach Pickers," a group that met and performed often, entertaining those in nursing homes and assisted living facilities. Joy could lose herself in these pursuits and her art was one of her life's delights.
By far though, it was Joy's family that was her greatest passion, in particular, her grandchildren whom she loved with every fiber of her being. "Gurmy," as they called her, created magical holiday and birthday traditions, but she could make a random rainy Tuesday afternoon feel special.
She showed up to recitals, awards ceremonies, athletic events, birthday parties, graduation ceremonies or anywhere else her beloved grandchildren were located. Joy had the ability to make each one of her grandchildren feel as if they were her favorite, and the truth was, they all were. She loved them with a fierce and pure heart, always seeing the absolute best in each of them. And although Joy and Jere divorced in 1990, they remained good friends and were both proud and delighted by their beautiful family.
Joy will be remembered for her beauty, her kind and giving heart, her love for her family and friends, her art, her ability to take a bunch of grocery store flowers and create something beautiful. In fact, Joy's life was all about creating beauty wherever she could find it. That gift was on display in her home, her paintings, in the time and energy she poured into every person she ever loved.
Joy's memory will be cherished and kept alive by her children, Greg (Mary Ellen), Glenn (Traci) and John (Selena); grandchildren Joey (Savanna), Grace, Shelby, Andrew and Sydney and her great grandson Charlie (Charles) Garde. She is also survived by siblings Joanne and James (Eileen) Ebersbach as well as her late brother Edward Johnson's daughter Victoria. Joy was also a beloved aunt to many nieces, nephews, grandniece, and grand nephews.
Joy was predeceased by her mother and father, John and Victoria (Mann) Johnson as well as her stepfather Frank Ebersbach, and brothers Edward Johnson and Robert Ebersbach.
Joy's family is thankful for the kind caretakers at Heartis Assisted Living where she spent her final months. In addition, her loved ones are especially grateful to Southwest Christian Care Hospice for the exceptional care they take with each and every "guest" (and their families) that comes through their doors. In addition to no-cost hospice care, they also provide support to families with special needs children.
Joy's family requests that anyone wishing to honor her memory please donate to Southwest Christian Care. A donation link can be found on their homepage www.swchristiancare.org.
A Celebration of Life will be held September 10, 2023, at Due South Seafood Kitchen in Peachtree City from 11:30 to 2:00.