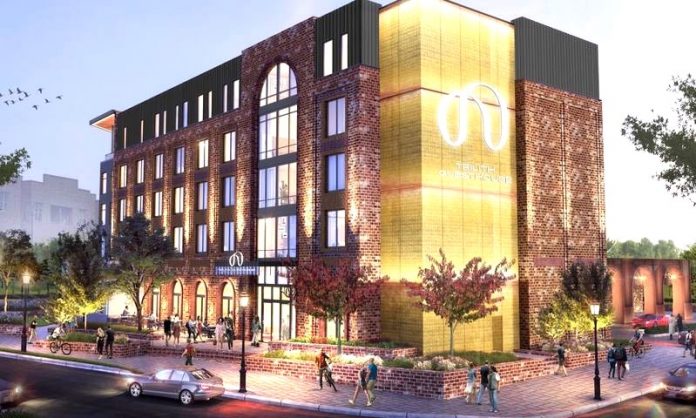 Trilith Guesthouse (350 Trilith Parkway, Fayetteville, Georgia), the new 193-room boutique hotel whose story begins with its January 2024 opening, has announced the appointment of James Green as General Manager, and three other key additions to the hotel's executive team: Felicia Lyn, Director of Entertainment & Business Travel; Cori Cramsey, Senior Sales Manager; and Janay Holliday, Catering Sales Manager.
Scheduled to open January 2024, Trilith Guesthouse sits proudly at the main entrance of the European-inspired Town at Trilith in Fayetteville, Georgia, adjacent to Trilith Studios, the second largest film and television studio in North America.
Designed to inspire creativity and collaboration, the five-story, 193-key boutique hotel will include 36 apartment-style studios and one-bedroom suites; a signature street-level restaurant; fifth-floor rooftop bar; culinary studio; and indoor/outdoor event spaces spanning more than 17,000 square feet.
Trilith Guesthouse will become a member of Marriott's Tribute Portfolio of independent boutique hotels. Trilith Guesthouse is currently accepting reservations for March 3, 2024, and beyond. TrilithGuesthouse.com
Green and his team are setting the scene for the hotel's grand opening in the Town at Trilith, just south of Atlanta, Georgia.
"Trilith Guesthouse is designed to inspire the storyteller in every guest, with James and his team being the perfect cast of characters to make our own story an instant classic," said Joe Collier, President and Founder of Mainsail Lodging & Development. "I'm excited to watch these talented managers as they combine their individual experiences to lead our employees and craft the first chapter of the hotel's epic tale in Trilith."
General Manager James Green will oversee daily business activities, improve business functions, and manage budgets, while developing strategic plans and goals for the hotel.
A hospitality veteran with nearly two decades in the industry, Green dedicated 13 years of his career to Starwood Hotels and Resorts, followed by five years with Marriott International. For the past decade, Green has made a significant impact on the Atlanta market, notably with W Hotels. Most recently, he served as General Manager for Wylie Hotel, a boutique hotel in the historic Old Fourth Ward of Atlanta.
Felicia Lyn has been appointed Director of Entertainment & Business Travel and will be responsible for handling sales of all business travel and entertainment opportunities for Trilith Guesthouse and for Epicurean Atlanta, also owned and managed by Mainsail. Lyn has successfully worked her way through the downtown and midtown Atlanta business travel market at several notable hotels, including AC Atlanta Downtown, W Atlanta Midtown, and, most recently, the Bellyard Hotel.
Senior Sales Manager Cori Cramsey will manage, coordinate, and execute all hotel sales activities and client relationships. Drawing on more than 10 years in hospitality, Cramsey joins Trilith Guesthouse from the Luminary Hotel & Co., another Mainsail Lodging & Development property located in Fort Myers, Florida, where she played a pivotal role in the hotel's opening. At Luminary, Cramsey served as Catering Sales Manager before accepting a promotion to Senior Sales Manager at Trilith Guesthouse. 
As Catering Sales Manager, Janay Holliday will conduct day-to-day activities related to catering sales and event efforts for the hotel. Holliday's years of sales experience includes positions as Catering Sales Manager at the Westin Atlanta Airport and Sales Manager for Marriott International, where she sold more than 18 Marriott managed properties in Alabama, Florida, Atlanta, New Orleans, and Nashville.