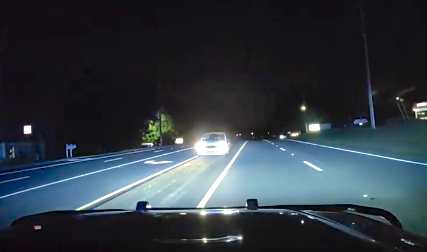 A Peachtree City police officer was nearly hit head-on while transporting a suspect to Fayette County Jail over the weekend, and another arrest was made as a result.
According to reports, the officer was traveling in the area of Hwy. 54 and Governors Square with an unrelated offender in the wee hours of July 23 when coming head-on with another vehicle. A traffic stop was attempted but the vehicle fled. It was located a short distance later.
Kelly Johana Alfonso Gonzalez, 36, of Fayetteville was charged with a felony count of fleeing or attempting to elude, along with a number of other traffic violations including driving on the wrong side of the road, driving under the influence of alcohol, crossing a median/divided highway, reckless driving, improper turn, failure to obtain a Georgia license, failure to maintain lane, and obstruction of an officer.
Elsewhere in Peachtree City, authorities responded July 21 at about 6 p.m. to The Overlook in reference to shoplifters in the area. Two suspects were arrested for that and other charges.
Michael Britt, 29, of Atlanta was charged with marijuana possession as well as possession of a weapon by a convicted felon. Keiara Williamson-Williams, 27, of Atlanta was charged with theft by shoplifting, theft by deception and marijuana possession.
An officer responded the evening of July 23 to a verbal dispute at the Waffle House on S. Hwy. 74 and found a man who, according to a police report, was obviously intoxicated and verbally aggressive to various people. Cameron Odel, 23, of Newnan was arrested and charged with drunk or disorderly.
An officer was conducting a general patrol July 21 in the area of Hwy. 74 and Wisdom Road when a vehicle was seen with a license plate that showed a suspended registration. The registered owner was listed as wanted out of Clayton County. After stopping the car, the officer confirmed that the owner was the driver and was indeed wanted. David Smith, 76, was arrested and taken to Fayette County Jail.