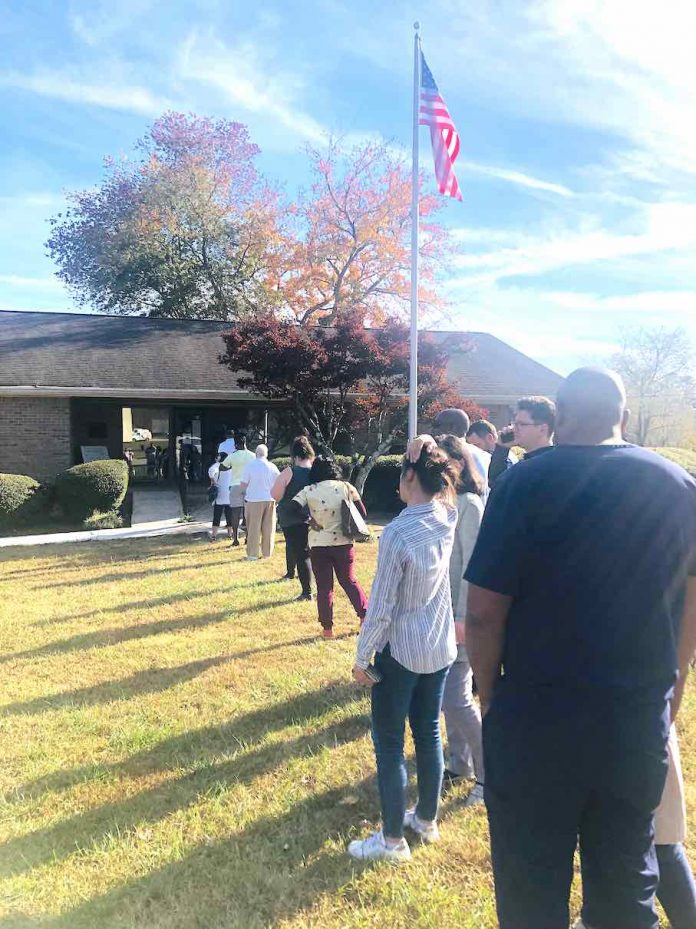 9,264 have already voted in Peachtree City Special Election —

 
On Election Day Nov. 8, more than 40,728 registered Fayette voters won't have to worry about getting to the polls before 7 p.m. That's because they've already cast ballots in the general election during early voting and via absentee ballots.
The tally of early in-person voting was 38,028, the Fayette County Board of Elections told The Citizen Monday. Additionally, 3,500 absentee ballots were sent out and more than 2,700 ballots were returned, the Elections Office reported.
That brings the total early voting and absentee ballots to 40,728, representing about 42% of all Fayette's registered voters.
---
Check in with TheCitizen.com after polls close Nov. 8 for the Fayette County vote tally
---
Meanwhile, the count of early voters in the separate special election to fill a vacancy in Post 3 Peachtree City Council reached 9,154 with an additional 110 absentee ballots received, the Elections Office said.
Based on numbers posted on the Peachtree City website, here are the Peachtree City Special Election absentee and in-person (early voting) ballots cast:
Fayette County Elections Office: 189
Fayette County Library: 78
Peachtree City Library: 7,892
Tyrone Former Police Office: 995
Across Georgia, voters set all-time midterm early turnout record.
Georgia voters shattered the 2.5 million mark for ballots cast prior to Election Day. As of Saturday morning, Georgia's record breaking early turnout concluded with 2,288,889 voters casting their ballot during Early Voting, with 231,063 showing up on Friday, November 4th, according to Secretary of State Brad Raffensperger.
Friday's in-person total was 6% higher than the final day of Early Voting in the 2020 Presidential election, he said.
Georgia has had record Early Voting turnout since the first day of Early Voting this year, surging to nearly twice the number on the first day of Early Voting in 2018. Early Voting in this election far exceeded the total from 2018, which saw 1.8M voters cast their ballots and was within striking distance of the 2.6M who cast their ballot early in 2020.
"Georgia voters came out in near Presidential-level numbers," said Raffensperger. "County election directors handled that demand with the utmost professionalism. They navigated a whole host of challenges and executed seamlessly. They deserve our highest praise."
As of Friday, over 75% of Absentee ballots have been returned to county election offices. Voters have until 7 p.m. on Election Day to return them. Voters should check My Voter Page or their county website for information on in-person return options.
Voters who did not cast a ballot during Early Voting are encouraged to check My Voter Page for the most up-to-date Election Day information.
Turnout Numbers Through 11/4/2022:
Total Turnout: 2,504,956
Early In-Person: 2,288,889
Absentee: 216,067
New Turnout Since Previous Day: 239,298
Early In-Person Since Previous Day: 231,063
Absentee Since Previous Day: 8,235
Note: turnout statistics are reconciled throughout the day and daily updates will not always reflect reported totals from previous day.
Turnout Through Same Day in 2020:
Early In-Person: 2,697,822
Turnout Through Same Day in 2018:
Early In-Person: 1,890,364
More information can be found on the Secretary of State's Data Hub: Data Hub – 2022 General Election | Georgia Secretary of State (ga.gov).
— Election Board reporting by BEN NELMS