All is well at Starr's Mill High School today, Fayette County Sheriff Barry Babb said Monday. There's "an additional law enforcement presence" on the sprawling campus just south of Peachtree City "as a precaution," Babb said.
Classes at Starr's Mill began with an undertone of nervousness after a threat of gun violence on a boys restroom wall went viral on the preceding Friday. By Sunday night, Principal Allen Leonard had decided to email parents about the situation:
"Dear Panther Families:
"Late Friday afternoon a message was found in one of the boy's restrooms stating that a student is going to bring a gun to school on October 3. Our school resource officer was made aware and began an investigation.
"No specific threat was made against any student or staff member. However, as a precautionary measure, there will be additional law enforcement personnel at school tomorrow. 
"We are still investigating the identity of the person who wrote the message.  
"The safety of our students and staff is a top priority. I encourage you to talk to your student and encourage them to report any information they may have pertaining to this incident. It takes all of us working together to ensure a safe learning and working environment for our school community.
"Thank you for your continued support of Starr's Mill High School.
"Sincerely,
"Allen Leonard, Principal"
"County office administrators and additional law enforcement personnel are at the school today," said Melinda Berry-Dreisbach, the school system's public information officer. "Classes are being held as usual, there have not been any incidents. The investigation is still ongoing to find the person who wrote the message. If students have any information, they should report it to school administrators."
Below is a photo — apparently taken by a student — that is being shared on social media.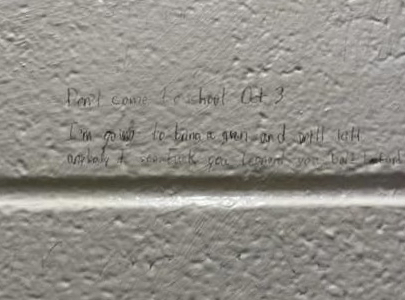 The text of the scribble is as follows:
"Don't come to shool [sic] Oct 3
"I'm going to bring a gun and will kill
"anybody I see" plus an insult against the principal.
Sheriff Babb said Monday that his investigators "are continuing to work on the source of the threat" but noted that a small, scribbled message on a bathroom wall did not provide much in the way of evidence.
Social media heated up as parents and students discussed the scribbled threat — whether real or a hoax — with some parents wondering about the timing of the principal's email on Sunday night that described what officials knew about two days earlier.