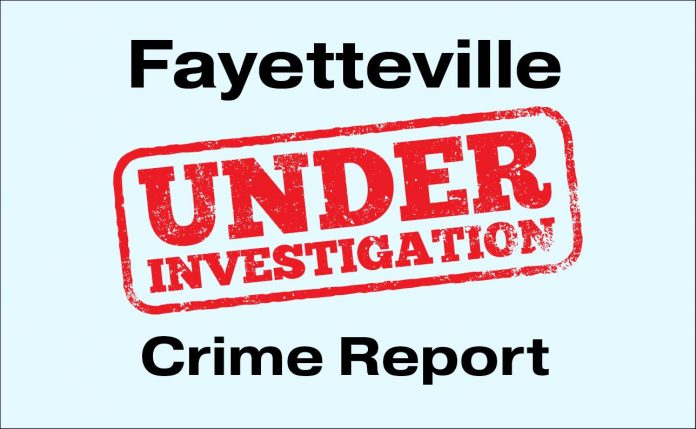 Threats made by the adult daughter of a woman in a Fayetteville nursing home got her banned from the facility.
Fayetteville officers on May 24 at approximately 11:30 a.m. were dispatched to the Fayetteville Center for Nursing and Healing on Brandywine Boulevard regarding threats made to staff by a family member of a resident.
Fayetteville Police Department spokesperson Ann Marie Burdett said police met with several facility staff members who stated the adult daughter of a resident made verbal threats as she was walking through the nursing home because she was reportedly upset with her mother having stitches removed from her eyebrow.
"The complainant told police the female subject was walking through the hall and allegedly said she would shoot up the place if she had a gun," Burdett said of the report.
The officer interviewed other staff members, and they said the subject was not talking to anyone in particular, but she just appeared to be upset about her mother's condition, said Burdett.
"The staff members told police the female subject allegedly said in a joking manner that if her mother didn't let the staff remove her stitches, she would black her mother's other eye. A staff member completed a complaint and forwarded it to the proper authorities for it to be investigated. The complainant told police the company did not want to pursue charges against the female subject, and they did not want her to return to the premises," Burdett said.
The officer contacted the female subject and informed her the company did not want her to return to the facility. If she returned to the facility, the staff was instructed to contact the police, Burdett added.
Also in Fayetteville, police on May 24 were dispatched to Ferguson Bath on West Lanier Avenue in reference to a theft.
The store manager reported that gas and electric heaters were missing from the store's inventory, noting that the last day the employees worked was on May 20 and they did not return until May 23, Burdett said.
The manager said it was on May 23 that he discovered a combination of gas and 12 electric water heaters were missing but did not report the missing items right away to the police because they were still doing inventory and communicating with their corporate office, Burdett explained.