A Fayette County dog is on his way to a national competition this summer. "Danny's Maximus Aurelius," an AKC registered labrador retriever, is better known to his family as "Max,"  but when he does really well, his trainer, Patty King, calls him "Maximus."
Max did really well in April at the Peach Blossom Cluster Dog Show in Perry, where he earned a Rally Excellent (RE) title. The award qualifies Max to be in the arena at the Rally National Championships in Ohio alongside other qualifying dogs from around the country. 
Max also earned a Beginner Novice Obedience (BN) title at the show in Perry.
Max was born in Brooks, one of eight in a litter of chocolate labs, and is owned by Danny and Kelley Caldwell, of Peachtree City.
Since he was six months old, Max has worked with Patty, owner of U Lucky Dog U in Newnan. Patty has been training dogs since 1985. In addition to being a full-time instructor and trainer, she is an International Rally Judge.
"Max is a big tryer," Patty says. "He listens very well. He knows when we go in the ring, it's time to do exactly what he's supposed to do."
Max averaged 98 to 99 out of 100 in the Rally competition, which required him to perform 14 different commands, all off-leash, during a timed event.
Other titles Max holds include: Rally Novice (RN); Rally Intermediate (RI); Rally Advance (RA); Beginner Novice Obedience (BN); Canine Good Citizen Award (CGCA); Trick Dog Novice (TKN); and Farm Dog Certificate (FDC). Officially, he's:
Danny's Maximus Aurelius, RE, RE, RI, RA, BN, CBCA, TKN, FDC
The growing number of alphabets after Max's official name has earned him a reputation.
"When Max shows up, everybody gets nervous," Patty says.
Max will be working for his Rally Master title at the national championship show.
The most important prize Max wins, though, is the "Best Dog Ever" title he gets from the people he lives with. His trainer notes the relationship he has with his "daddy," is special.
"He adores Danny," Patty says. "Some dogs just appreciate their owners, and some worship the ground they walk on."
Patty says that's why when Max is in the arena, Danny can't even be in the building.
"He can't watch Max being shown," she explains. Patty takes Max from Danny outside and brings him into the building so that the dog knows Danny did not come inside. When Danny is in the building, Max is distracted.
"Because Max loves me, but he wants his dad," Patty says. "He would perform, but it wouldn't be up to what he's capable of."
At one show, Danny slipped into the building and hid in amongst the poodles, but it didn't work. Max knew he was there.
Max was a special blessing to the Caldwell family. After nearly two decades of hand and back surgeries, Danny thought he'd never be able to have a dog again. 
"I was afraid a dog like that would pull me and hurt my back," Danny says. 
"Karyn and Pilates have given me one of the best things in my life!" – Danny Caldwell
In October, 2019, after a year of physical therapy and Pilates with Dr. Karyn Staples, owner of ProHealth Physical Therapy and Pilates Studio in Peachtree City, he got a thumbs up to bring Max home.
"Karyn was the one who said, 'yeah, you can do that,'" Danny says. (Read related story here.)
It was some of the best news the Caldwell family had heard in 20 years. The dad-dog duo have logged miles and miles on the paths in Peachtree City and have been at numerous dog shows since then.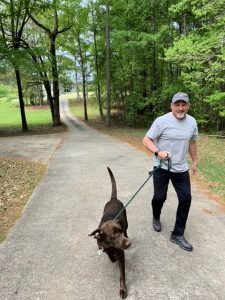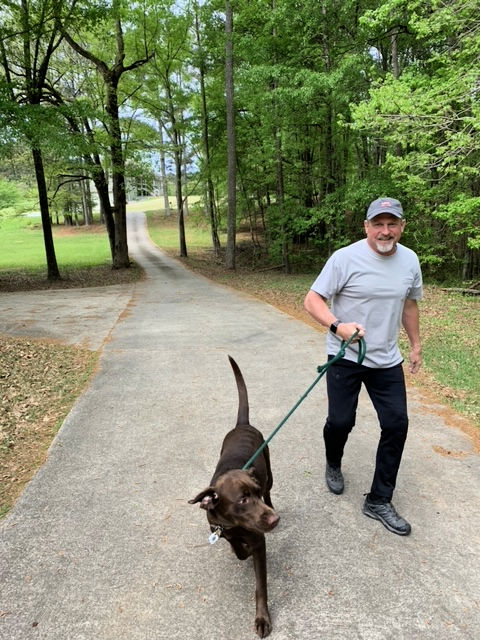 "Max gets me motivated to do things," Danny says. "I never dreamed we'd be doing all this!"
Danny says Max has settled down a lot since puppyhood. These days, he follows Danny around the yard and anywhere else he's allowed to go.
"If he realizes I'm not going to focus on him, he lays down and watches me do what I want do to."
"Max is the best dog I've ever had!"