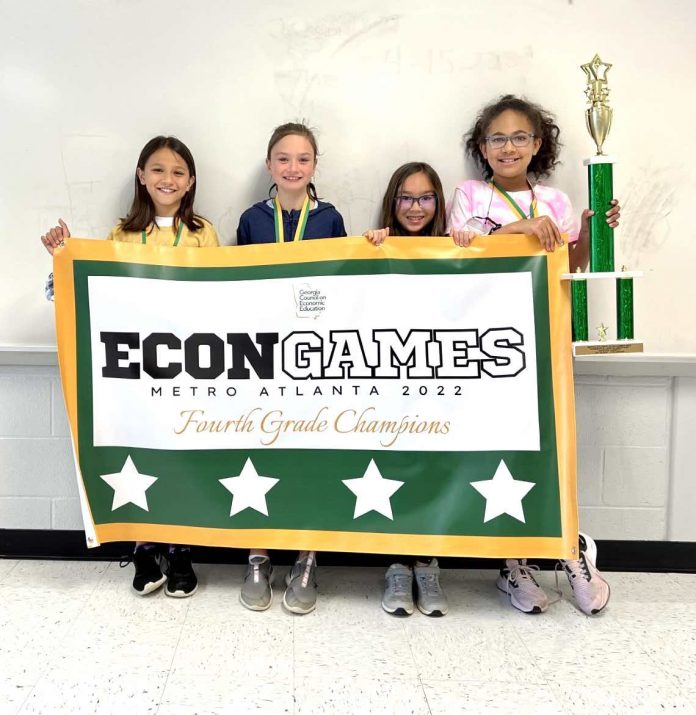 A team of fourth graders from Crabapple Lane Elementary in Peachtree City (Fayette County Public Schools) won first place in the Spring Metro Atlanta Econ Games Competition, sponsored by the Georgia Council on Economic Education.
From February 2 to March 24, 34 fourth and fifth grade teams from 15 elementary schools participated in the Econ Games, making it the largest virtual event to date. Over three rounds, the teams – made up of three to four students each – applied their knowledge of economics and personal finance by taking a critical thinking test and creating a product.
Teams that make it to the final round were required to develop and present an idea for a product or service that solves a real-world problem. The problem solving round for this competition challenged finalists to develop a good or service that would help make a fourth or fifth grader more successful in school.
The Crabapple fourth grade team — made up of Kylee Ing, Ruby Chau, Sydney Mynatt, and Lily Dodgen — proposed the idea of Scented Oil Releasing (SOR) Glasses, which were blue light glasses with a scented sachet tucked into the legs of the frame. The sachets contained the scents of three essential oils in peppermint, lemon and rosemary.
According to the girls, they selected these particular oils because their research found that they ease headaches, reduce gut spasms, support memory, prevent anxiety, and help brain functions. With SOR glasses, they told the judges, "Students SOR to school success, and don't worry about the rest!"
"The Econ Games is a highly engaging, competitive event designed to inspire fourth and fifth grade students to develop a stronger interest in economics and personal finance," says GCEE Program Manager Angie Battle, who oversees the competition. "We have been so impressed with the students' demonstration of knowledge, creativity and enthusiasm since we created the Econ Games in 2017."
Gifted teachers Jill Earnhart and Kari Nyguen coordinated the teams from Crabapple Lane, which also included a team that placed third in the fifth grade division. The overall fifth grade winner was from Newnan Crossing Elementary (Coweta County School System).
The winning fourth grade team from Crabapple Lane Elementary School are, from left, Kylee Ing, Lily Dodgen, Ruby Chau and Sydney Mynatt. Photo/GCEE.