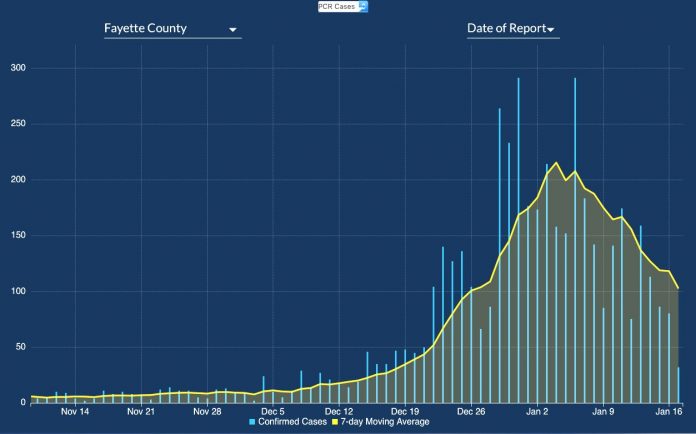 Data from the Georgia Department of Public Health suggest that the surge in infections largely attributed to the Covid-19 variant named omicron is on the way down, at least in measured test results, statewide and in Fayette County,as shown in the graphs above and below from Jan. 17.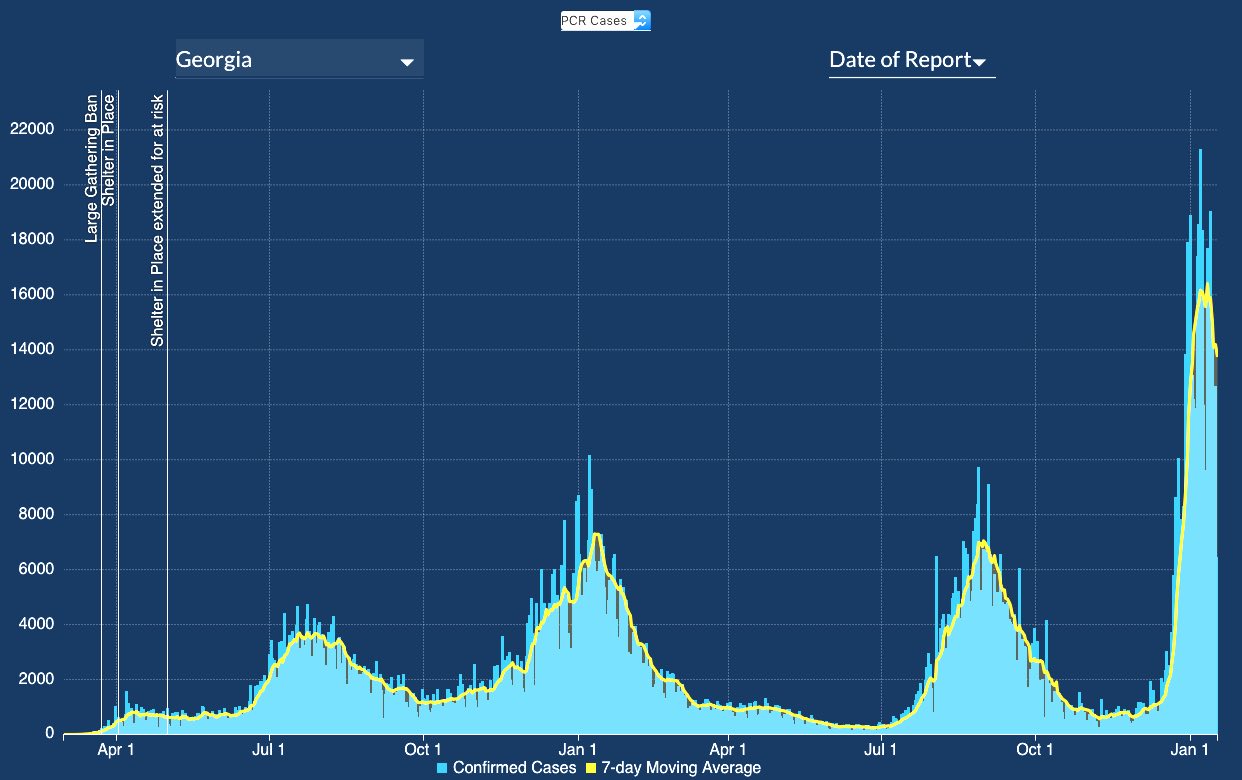 Currently there's no way of measuring the continuing spread of the highly contagious variant, given the combination of a relatively mild infection for many people and the increase in home test kit use whose results are never reported to the DPH.
Hospitalizations of Fayette residents with test-confirmed Covid infections numbered 32 last week from Monday, Jan. 10 through Friday Jan. 14, according to DPH data. There were no reported fatalities attributed to Covid among Fayette residents last week, DPH data showed. However, 2 Covid fatalities were reported over the weekend, the first since the Jan. 10 report.
The contagiousness shows up in the 2-week rate of reported positive tests of Fayette residents. Fayette ended 2021 with a then-record high 2-week rate of 29.3%. It peaked at 34.5% on Jan. 5, then has fallen steadily to reach 24.7% Jan. 14. The Fayette rate continued downward in the Monday, Jan. DPH report — 23.3%.
That's still high — nearly 1 out of every 4 Fayette residents who receive reportable tests turn out to have Covid — but the trend is downward.
The number of new hospitalizations stands at 46 since Monday, Jan. 10 and included 14 admitted over the past weekend and reported Monday, Jan. 17.
But that number requires some perspective. Everyone admitted to the hospital is tested immediately for Covid infection — but not everyone showed up at the hospital to receive treatment for Covid.
In other words, given omicron's mild symptoms, an unknown number of new patients were admitted WITH Covid but NOT BECAUSE of Covid. See the hospital graphs below, with attention to the low impact on the state's intensive care units and use of ventilators, both strongly impacted in previous Covid surges but with markedly lower impact levels with the now dominant strain in the state — omicron.
On the vaccination report, Fayette now has 63% of its population fully vaccinated.
Meanwhile, the Fayette County School System — having returned to mandatory masking following the Christmas holiday break — no longer provides a metric for quarantined staff members and students in the system's 24 schools.
"Quarantines are no longer being reported due to a change in quarantine guidance that allows close contacts to continue to come to school/work if they wear a face covering for 10 days and are fever-free," the system report for last week said.
In its weekly report, the system shows 134 new cases of Covid — 107 students and 27 staff members. The cases seem evenly distributed among all grade levels, with McIntosh High reporting the highest new case number — 12 students. See chart below.