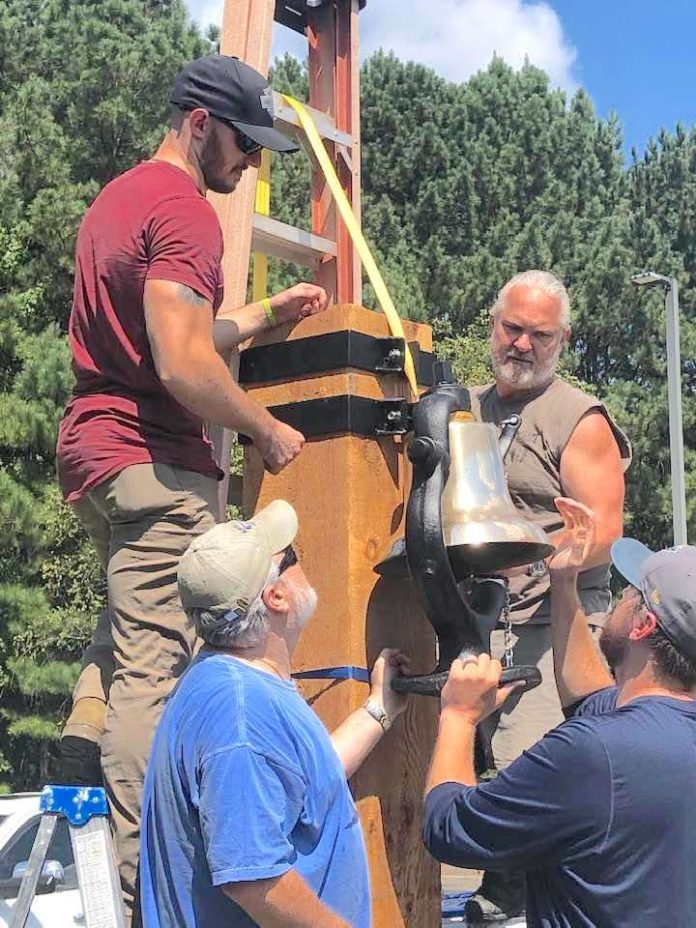 A new memorial church bell was recently installed at Christ the King Church in Sharpsburg.
In March 2021, long-time member Virginia R. Fretwell, 91, passed away at Piedmont Fayette Hospital. People were encouraged by the family to give a memorial gift to the church in lieu of flowers.
Four months later, Mrs. Fretwell's son, Edwin T. (Ned) Fretwell, 54, succumbed to acute respiratory failure at the Piedmont Fayette ICU. Again, the family encouraged memorials gifts be given to the church.
The Rector's Council, the church's governing board, considered how best to honor the Fretwells with the monies received and decided to purchase and erect a church bell.
The project, overseen by Jason Epps, resulted in the 250-pound bell being installed outside on a cedar post 12" x 12" x 14'. The 500-pound post was sunk four feet into the ground and held in place by 1,080 pounds of concrete. Two workdays and a dozen men were required to install the bell.
The bell was dedicated and first rung on the church's 25th anniversary with Mrs. Fretwell's daughter, Sallie Metzger, Peachtree City, and her family, and Michelle Midwinter, Peachtree City, Mr. Fretwell's fiance, being present. Bishop David Epps prayed the dedicatory prayer with the entire congregation in attendance.
The bell is rung each Sunday morning to announce the start of Sunday worship services.
(L-R) Isaac Epps, Senoia, Chris Northrop, Senoia, Jason Epps, Senoia, and Tyler Dickinson, Newnan. Photo/David Epps.