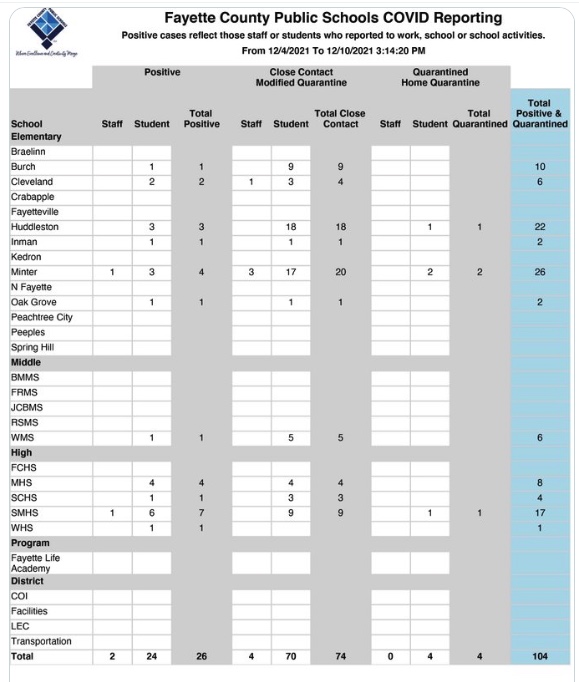 24 new student cases plus 2 staff members; quarantines quadruple from 18 to 74 as overall Fayette cases continue gradual rise — 
New Covid-19 infections among Fayette County school students and staff members have taken a pronounced upward bounce, according to the weekly report from the system.
New student cases rose from 12 the previous week to 24 students this past week, and added 2 staff members. That brought an increase in quarantines: 70 students and 4 staffers in modified, in-school separation and 4 students in in-home quarantine.
The total number of test-confirmed infections plus quarantines more than tripled from 30 the previous week to 104 this past week, the schools' report showed.
Across Fayette County generally, confirmed infections rose by 89 cases last week, according to the Georgia Department of Public Health.
The 2-week rate of positive tests administered to Fayette residents increased nearly a full percentage point — from 3% the previous week to 3.9% this past week. Snapshot figures show the 2-week number of 121 new cases on Friday, Dec. 3 rose to 176 new cases by Friday, Dec. 10.
An accompanying DPH chart of Fayette cases show a fall from the third-surge high of 63 daily cases on Aug. 28 (based on a 7-day moving average) to 5.4 new daily cases on Nov. 16. That daily average case number has risen slowly from that low point to 13.6 daily cases on Dec. 9, the DPH chart shows.
Meanwhile, 62% — or 69,541 — of Fayette's population has been fully vaccinated, and 20,949 of that number has received a third shot, a booster, DPH figures show. 
DPH charts below show Fayette cases since the beginning of the pandemic and a daily census of statewide hospital admissions for treatment of Covid.