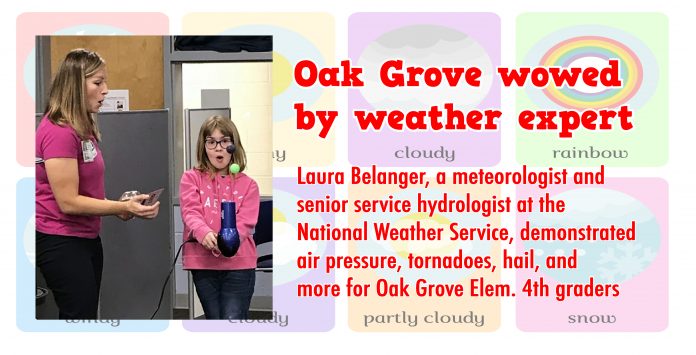 Oak Grove Elementary produces the best and the brightest, and they like to tap into experts to expand their knowledge. When it came time to talk weather, the Braves in 4th grade received a special visitor from the National Weather Service.
Laura Belanger, a meteorologist and senior service hydrologist for more than 17 years at the National Weather Service in Peachtree City, demonstrated air pressure, tornadoes, hail, and more.
"Laura came to speak to our students about how she is able to predict the weather using weather instruments and her knowledge of clouds. She also showed them some of her weather instruments that she uses as a meteorologist," said 4th grade teacher Heather Donaldson. "We hope that our students have a better understanding of how they can observe clouds and use weather instruments to help predict weather."
The visit came about thanks to Brooke Fuller, an early intervention specialist at the school, who is friends with Belanger. Fuller collaborates with Donaldson's class for math, and she usually arrives right as they are wrapping up science.
"I asked the students what they were working on, and they were studying clouds," said Fuller. "I started talking to them about how one of my friends was a meteorologist, and I asked them if they wanted to meet a meteorologist. They all sounded so excited, so I reached out to Laura to set up the meeting."
The team-up was a great way to expose students to weather concepts in a safe way.
"It was the goal for all of us to educate the students on weather and weather safety, but also highlight ways that weather is fun and interesting," said Fuller. "As Laura says, 'There are so many kids that think weather is scary and it's a way to get them excited about STEM that they see everyday.'"