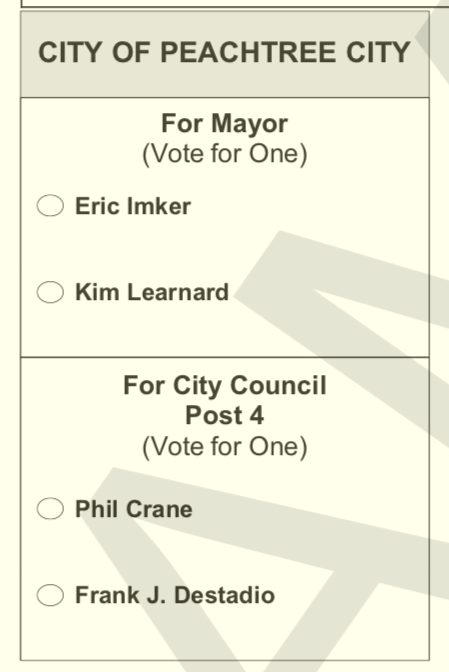 What a difference a decade makes. In a Nov. 2, 2011 story in The Citizen, then-council members Vanessa Fleisch and Kim Learnard both were reported to have endorsed the reelection of fellow Councilman Eric Imker in letters to the editor.
Now, 10 years later, Fleisch is leaving the council after serving the maximum-allowed two terms as mayor and Learnard is locked in a runoff battle for mayor with Imker in a runoff election to be decided Tuesday, Nov. 30.
There's also a runoff for Post 4. Planning Commission member Frank Destadio and Peachtree City chiropractor Phil Crane were the top two vote-getters in the Nov. 2 election tally, setting up this runoff.
Only Peachtree City voters are eligible to vote in the runoff, and you do not have to have voted in the Nov. 2 election.
Three of the candidates made last-minute pitches to voters in letters to the editor. See letters from Learnard, Imker and Destadio elsewhere on this site. Crane did not submit a letter.
The Citizen will be covering the vote count Tuesday night.