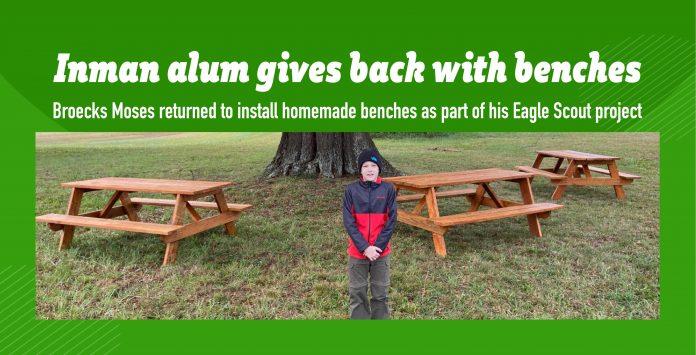 Inman Elementary is a special school that leaves a lasting impression on all the Eagles that once soared through its halls. Now an 8th grader at Whitewater Middle, Broecks Moses returned to his old school to install benches as part of his Eagle Scout project.
Broecks, who was an Eagle from Pre-K through 5th grade, built the three benches with the help of a few volunteers, and they will allow students to enjoy learning outside, as well as lunch with friends.
Inman Principal Tabitha Walker was touched that Broecks wanted to give back to his old school.
"I was amazed at the generosity of this young man. He could've chosen any place to complete his Scout project, but Inman left a lasting impression on him," said Walker. "I account this to the amazing teachers of Inman and the close-knit community. There's no better place to be."