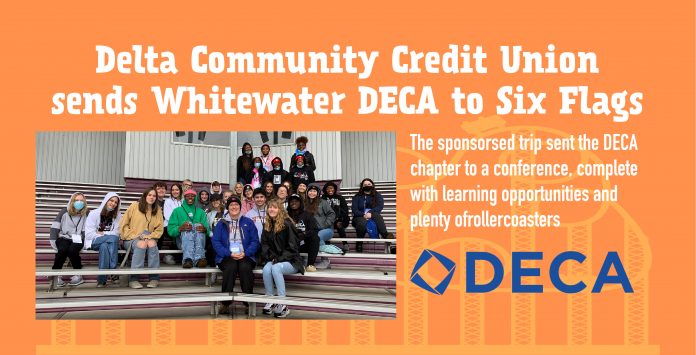 With the help of their friends from Delta Community Credit Union, some lucky Wildcats got to enjoy a day of learning and thrills.
On November 11, the Whitewater High DECA chapter took a field trip to Six Flags to attend Georgia DECA's Fall Leadership Development Conference. The trip was fully sponsored by Delta Community Credit Union, a long-time sponsor of Whitewater DECA that has contributed not only financially but also in knowledge to competitors. William Wesley, DCCU's Community Development Representative, has worked directly with Whitewater in competition for the past three years.
At the conference, DECA members competed in various marketing role plays, attended leadership development workshops, and enjoyed the rest of their time riding rollercoasters without any wait times. Georgia DECA bought out the park for the day to have space for competition and workshops and also to compel members to attend with the thrill of rollercoasters.
Thanks to Delta Community, Whitewater DECA could go free of charge and use the opportunity to increase chapter member numbers. DECA is a career and technical student organization geared to preparing emerging leaders and entrepreneurs in marketing, finance, hospitality, and management.