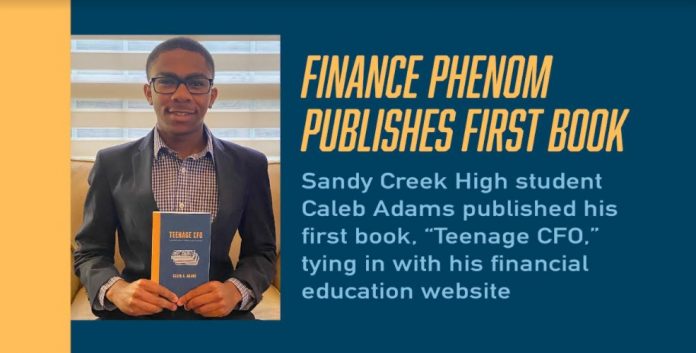 Caleb Adams is a rising star in the world of finance. The Sandy Creek High student has racked up plenty of accolades already, and now you can add author to his resume.
Adams recently published his first book, "Teenage CFO." The book includes valuable information about the stock market, compound interest, real estate, personal finance, the economy, financial analysis, and taxes. It also includes a COVID-19 case study and Caleb's top predictions for the future.
"Publishing a book has been a major goal of mine for a while," said Adams. "My main objective with 'Teenage CFO' is to educate people on important financial topics, such as investing, banking, and budgeting. It is my hope that readers take away a better understanding of ways to manage and grow their money."
Adams is a student in the 3rd year Financial Services Pathway at Sandy Creek with instructor Angela Hutcherson.
"Caleb is one of those students who just 'have it.' He is intrinsically motivated, super-knowledgeable, willing to listen and learn, and overall just a well-rounded first-class student," said Hutcherson. "He is definitely one of those once-in-a-lifetime students that you know will be successful in whatever he does, and we are very likely to see his name in flashing lights leading a Fortune 500 company or even being the CEO of his own venture."
The book is an extension of Adams's website, Up Next Finance (upnextfinance.com).
"Up Next Finance is a financial education website and blog that I founded in April 2020. It is a culmination of the knowledge I've accumulated and lessons I've learned about finance over the years," said Adams. "On the website, visitors can access information about investing, personal finance, and the economy. I also publish a monthly blog post on interesting financial or economic concepts."
Finance is not the typical "hobby" for most high school students, but it has always been a passion for Adams.
"My parents have told me that growing up, I was always interested in the financial transactions I saw. There was something intriguing about people exchanging money and receiving a product or service," he said. "This curiosity, coupled with educational conversations with my parents, pushed me to learn more about finance. In fact, I purchased my first stock in 2018 when I was just 13 years old. Finance appeals to me because of the monumental impact it has on our society and its ability to positively affect businesses and individuals alike."
The book can be purchased through his website at upnextfinance.com/teenage-cfo or through Amazon.
There will be an opportunity to meet Adams and purchase a signed copy of the book at the Peachtree City Library on Saturday, November 13 from 1 to 3 p.m.