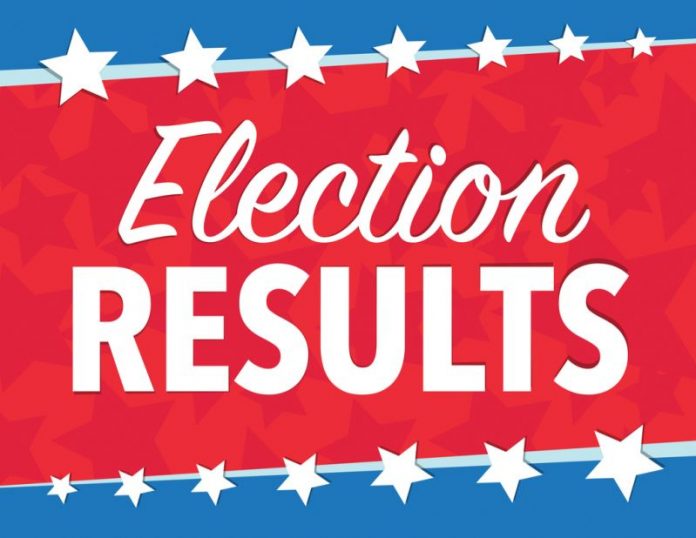 FINAL and UNOFFICIAL TALLY, 15 of 15 PRECINCTS REPORTING 9:40 P.M. — Kim Learnard and Eric Imker — who served together on the City Council — will meet in a runoff Nov. 30 to determine who will be Peachtree City's next mayor.
Frank Destadio, currently serving as a volunteer on the city's Planning Commission, will meet Phil Crane Nov. 30 to determine who will fill the open Post 4 seat.
Political newcomer Gretchen Caola beat incumbent Post 3 Councilman Kevin Madden.
In Fayetteville, longtime incumbent Councilman Paul Oddo fell to newcomer Niyah Glover for Post 5.
In Tyrone, multi-term incumbent Gloria Furr held off challengers Taiwo Idowu and Danny Dolan to hold her Post 4 Town Council seat.
And Fayetteville voters voted to allow package liquor sales, 1,299 to 467.
The final unofficial count was as follows:
PTC Mayor (open, incumbent Vanessa Fleisch was term-limited)
Terry Ernst   439  451  814  1,099
Nick Ferrante   657  683  1,098  1,400
Don Haddix   48  49  107  140
Eric Imker   1,274  1,291  2,310  3,161
Kim Learnard   1,530  1,572  2,515  3,275
RUNOFF between Learnard and Imker Nov. 30.
==========================================
PTC Council Post 3 (Madden incumbent)
Kevin Madden   1,670  1,720  2,963  3,960
Gretchen Caola   2,117  2,162  3,580  4,678
==========================================
PTC Council Post 4 (Open, Terry Ernst was term-limited)
Phil Crane   1,093  1,126  1,873  2,494
Frank Destadio   1,337  1,361  2,180  2,811
Alan Livsey   232  238  486  699
Rick Bryant   1,041  1,071  1,820  2,391
RUNOFF between Destadio and Crane Nov. 30.
==========================================
Fayetteville Council Post 5 (Paul Oddo incumbent)
Niyah Glover   426  458  786  1,026
Paul Oddo   271  293  534  720
===========================================
Tyrone Town Council Post 4 (Gloria Furr incumbent)
Danny Dolan   116  118  256
Gloria Furr   438  441  685
Taiwo O. Idowu  327  332  627
NO RUNOFF; TYRONE WINNER IS FURR.
==============================================
FAYETTEVILLE REFERENDUM ON PACKAGE LIQUOR SALES
YES — 1,299
NO — 467
==============================================
EARLIER STORY:
Three contested posts on the Peachtree City Council, and one contested council post each in Fayetteville and Tyrone have gone before the voters of the three municipalities this first Tuesday in November.
At least two of the posts will have definite winners and losers by the time all the votes are counted tonight because each had only two candidates contesting the outcomes: Post 3 on the Peachtree City Council and Post 5 on the Fayetteville City Council.
Here's what we expect tonight after the polls close at 7 p.m., based on information from Brian Hill, director of Elections and Voter Registration for Fayette County.
Don't be looking for running vote tallies on the Georgia Secretary of State's website; it's not involved in municipal elections.
There will be a series of reports posted on the Fayette County election website — https://fayettecountyga.gov/elections/election_results.htm
Here's the schedule you may expect to get updated on vote totals:
7-7:15 p.m. — Elections office will run a summary report of all early voting and all absentee votes, including mail-in votes. Then that summary will be posted on the county website. (And we'll post it on TheCitizen.com).
Approximately 7:45 p.m. — Officials will update the earlier summary with any precincts that may have come in. That summary will be posted on the county website, and we will post it on TheCitizen.com.
No more reports are expected until all 15 precincts have come in and all have been tallied. That might be in by 9 p.m., but no guarantees.
There are 15 precincts total: 1 in Tyrone, 2 in Fayetteville, and 12 in Peachtree City.
One hint: The early vote tally shortly after 7 p.m. is likely to mirror (albeit roughly) the final vote percentages, kind of like a giant random poll with a high degree of confidence. Close races are exempt from that generalization.
Below are sample ballots from the three municipalities: