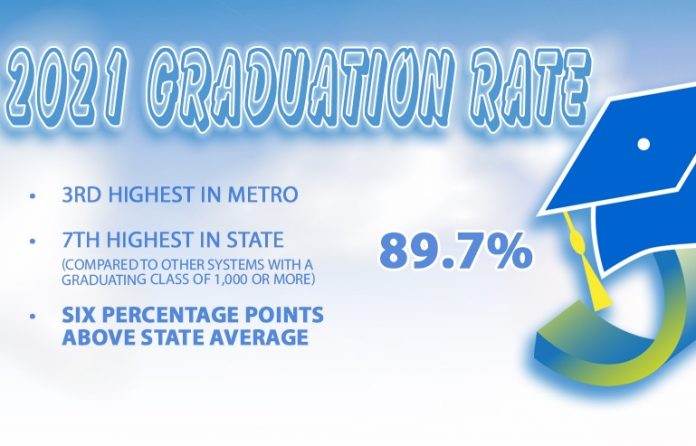 Starr's Mill and Whitewater lead all county high schools with 94% rate — 
Fayette's 2021 four-year high school graduation rate is 89.7%, which is 6 percentage points above the state's graduation rate of 83.7%.
The school system has the seventh highest graduation rate in the state compared to other school systems with a graduating class of 1,000 or more students, and has the third highest rate out of all metro Atlanta school systems.
Fayette County High was the only high school in the county that had an increase in its graduation rate. The school's rate increased 1.2 percentage points, going from 83.69 in 2020 to 84.9 in 2021. 
"As principal of Fayette County High School, I am very proud of the academic progress our students have displayed during a global pandemic. Fayette County High School's faculty and staff have partnered with our Tigers and family to create an environment where our students can thrive academically with educational initiatives through Tiger PLUS Wednesday and Saturday School, Instructional Focus, and monthly Amnesty Day that provide additional academic support to ensure the continuation of student engagement that captures our school motto, 'Excellence In All We Do with Tiger Pride,'" said Yolanda Briggs-Johnson, principal of Fayette County High.
Although seeing some decreases from 2020, Starr's Mill High, Whitewater High and McIntosh High schools' graduation rate remained above 90 percent with Starr's Mill at 94.3, Whitewater at 94.1, and McIntosh at 90.6. Sandy Creek's graduation rate is 83.2 percent.
Out of all 446 high schools in the state with reported graduation rates, Fayette's high schools rank in the top 30 percent overall. Individually, Starr's Mill and Whitewater rank in the top 10 percent, McIntosh ranks in the top 18 percent, Fayette County ranks in the top 28 percent, and Sandy Creek High ranks in the top 30 percent.
The school system's graduation rate dropped slightly, 1.6 percentage points, from 2020.
Georgia calculates a four-year adjusted cohort graduation rate as required by federal law. This rate is the number of students who graduate in four years with a regular high school diploma, divided by the number of students who form the adjusted cohort for the graduating class.