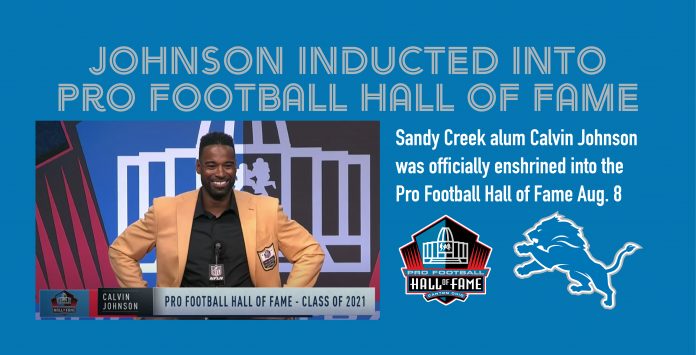 A journey of greatness that began in Tyrone has culminated in Canton, Ohio. Sandy Creek High alum Calvin Johnson is officially a member of the Pro Football Hall of Fame following his induction on Sunday, August 8.
Johnson made multiple mentions of his old hometown in his enshrinement speech, referring back to many in Tyrone who had an impact on his career.
"I want you to know that I know who you are, I know what you've done, and I know how you've impacted me," he said. "I want to say thank you to each and every one of you."
He specifically singled out Rodney Walker, his head coach at Sandy Creek High.
"He saw things in me that I didn't see in myself," Johnson said. "He spoke confidence into me and solidified my parents' teachings by emphasizing the same principals."
Johnson was a three-year starter at Sandy Creek, culminating in a senior campaign where he narrowly missed out on State Player of the Year for the 2003 season. His number 81 jersey was later retired by Sandy Creek in 2010. Next, he went to Georgia Tech where he finished second in catches, first in yards, and first in touchdowns all-time in school history. He was inducted into the College Football Hall of Fame in 2018.
Selected 2nd overall in the 2007 NFL Draft by the Detroit Lions, Johnson was selected to six-straight Pro Bowls with three-straight First-Team All-Pro honors. In 2012, he etched his name in the history books with a NFL single-season record for receiving yards at 1,964 yards.
Johnson played his entire 9-year NFL career for the Detroit Lions, retiring at 30 years old and becoming just the third player in NFL history to be selected for the Hall of Fame at 35 years old or younger.
He now stands forever among the best to ever play the game.
"My legacy in sports has been solidified with no greater honor than standing before you today amongst these gentlemen."