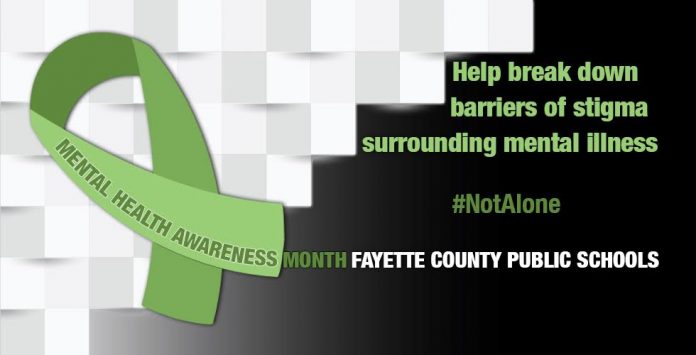 While it is the goal of Fayette County Public Schools to support its students' academic and social/emotional growth every day, recognizing May as National Mental Health Awareness Month provides an opportunity to reflect on good practices and bring awareness to mental health.
The school system joins other school systems, governments, organizations, and businesses across the nation in observing this movement to begin eliminating stigma by starting conversations and increasing understanding about mental illness.
Now, more than ever, many individuals may be feeling increased anxiety, stress or loneliness following a year of living with the challenges created by the COVID-19 pandemic. It is okay to not be okay, and it is important for people to know they are not the only ones struggling right now. That's why the National Alliance on Mental Illness has designated "You Are Not Alone" as the theme for 2021. Mental Health Awareness Month has been observed in the United States since 1949.
School counselors are promoting National Mental Health Awareness Month at their schools by using posters and special displays to educate students and staff about the need to break down barriers and talk about their feelings. Any student who is experiencing emotional issues can begin seeking help by talking to their school counselor.
School system employees can get assistance through the Employee Assistance Program (EAP), which offers free, confidential professional support for a range of issues. The EAP includes up to five phone or video consultations with licensed counselors for employees and their eligible household members, per issue, per calendar year.
Other resources available to individuals in Georgia include the Georgia Mental Health Crisis hotline, 800-715-4225; and the Georgia COVID-19 Emotional Support hotline, 866-399-8938.