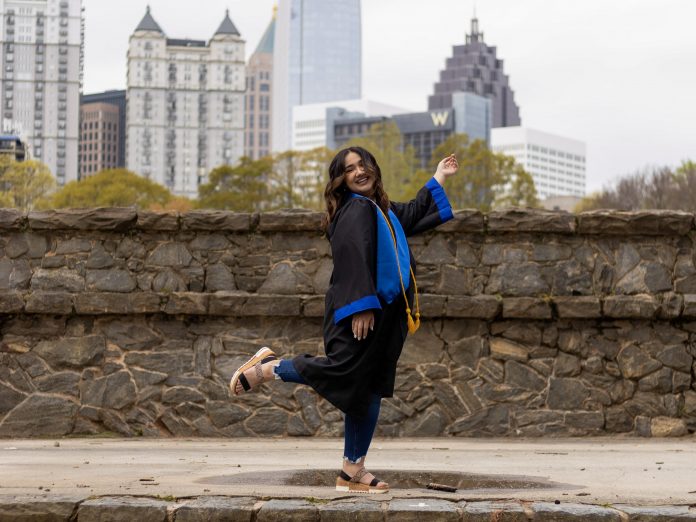 The Woodruff, Whitehead, and Evans Foundations have named Georgia State University Honors College senior Myah Vogt as their 2021 fellow.
Vogt, a graduating senior from Fayetteville (30215) who is majoring in Applied Linguistics, Spanish, is the first Georgia State student to receive this distinction.
Starting in August, Vogt will begin her yearlong fellowship, working closely with the foundations' staff to learn about their mission, management, and grant-making.
"You can't go anywhere in Atlanta without seeing and feeling the impact of the foundations, whether it's Woodruff Park on campus or the arts center," Vogt said. "That's what's exciting for me about this opportunity with the foundations-they love Atlanta as much as I do."
Vogt was a competitive candidate because she embodies the mission of the Woodruff, Whitehead, and Evans Foundations, said Jacob English, director of the Office of Undergraduate Research and Fellowships in the Honors College. English worked with Vogt on her Woodruff, Whitehead, and Evans Foundations Fellowship application and interviews.
"From the moment Myah stepped on Georgia State's campus, she has committed herself to being a change agent and servant leader," English said. "Whether it was helping those with food insecurity, volunteering for local political campaigns, or conducting research to improve the lives of those in underrepresented groups, she has committed herself to be a part of the solution.
"I see this role as a natural progression," he said, "towards Myah becoming an impactful leader in the Atlanta community on a broader scale."
Vogt said she's also eager to learn about the world of philanthropy and to make use of the data analysis skills she's learned through her Honors College University Assistantship Program.
"I'm excited to work with the foundations to see how the people stewarding funds use qualitative and quantitative data to make decisions on how to best benefit Atlanta," Vogt said. "Part of my career goals are to figure out better ways of serving my community."
During her time as an undergraduate, Vogt has worked as an assistant in the Comparative Intelligence and Cognition Lab of Michael Beran, associate professor of neuroscience and psychology. She is studying how non-human primates and preschool children perform tasks to learn more about human evolution, specifically how and when humans acquire certain cognitive skills.
While Vogt acknowledges she has not followed a typical academic path, she says exploring her passions and interests-chiefly language, education, stewardship, and cultural understanding has been rewarding. Through exploration, she has discovered her next calling and developed new skills.
She has honed her leadership style through WomenLead, formulated analytic reporting plans as an intern with the U.S. Army's Human Language Technology Team, tutored and lead virtual school for elementary school students during the COVID-19 pandemic, and conducted summer research on contemporary and historical youth literature in Munich, Germany.
"I wish more people knew that they could do things outside of their major," Vogt said. "Every risk I've taken at Georgia State has come with a reward."
Georgia State University, an enterprising urban public research university, is a national leader in graduating students from widely diverse backgrounds.
The student body of nearly 52,000 demonstrates that students from all backgrounds can achieve at high rates with unsurpassed connections to the city's business, government, nonprofit and cultural organizations.