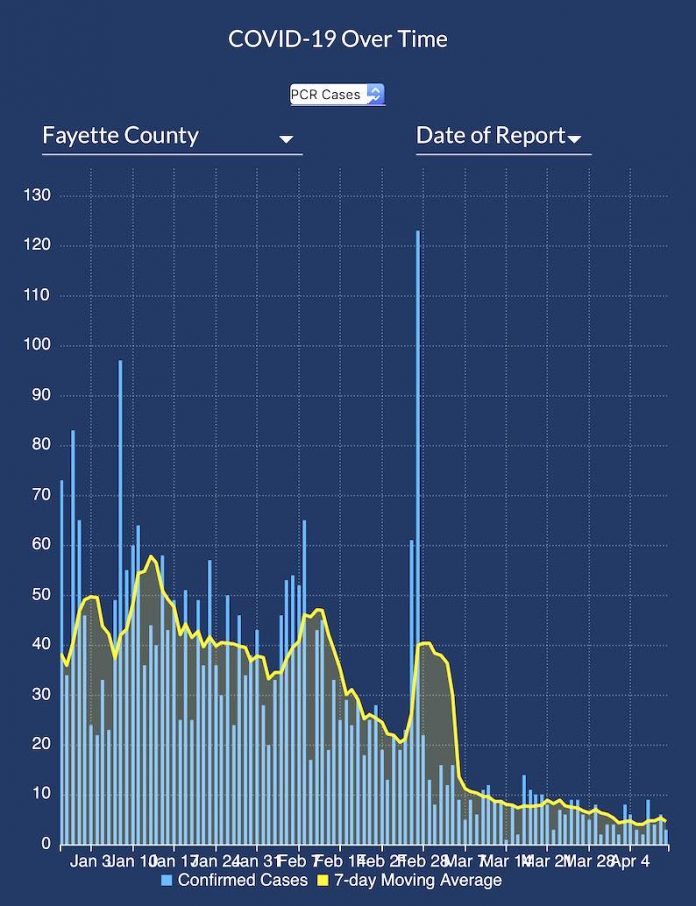 While Fayette had only a single-digit daily increase of Covid-19 cases in the past week, the death of toll of county residents took no similar time off.
During the 7-day period (Sunday to Saturday) in which only 37 new confirmed cases were reported, 5 Fayette residents lost their battles against the coronavirus, bringing the local death toll to 147 since the start of the pandemic.
Two deaths were reported April 7: A white male, age 65, and an Hispanic woman, age 76. Neither had any underlying medical conditions.
On April 9, an African-American male succumbed to the virus. He had no other underlying medical conditions.
And on April 10, another 2 fatalities were reported: an Hispanic white male, age 74, and a white male, age 77. Neither had an underlying medical condition.
The 2-week rate of confirmed tests remained below 4% for Fayette and mostly below 5% statewide.
Statewide cases increased 6,226 to a new total of 861,412, while statewide deaths rose 52 during the period to a pandemic total of 16,982.
New hospital admissions seem to have flattened out, according to data from the Georgia Department of Public Health. Covid cases being treated in hospitals across the state represented a little under 8% of the total number of patients being treated for all other ailments. As of Saturday, in Georgia there were 14,739 patients in hospital beds, with 1,139 of that number being treated for Covid (7.7%), according to DPH data. At its peak in early January, Covid cases amounted to more than 33% of all hospitalized patients.
With the past week having been spring break for local schools, no school system Covid report was produced.