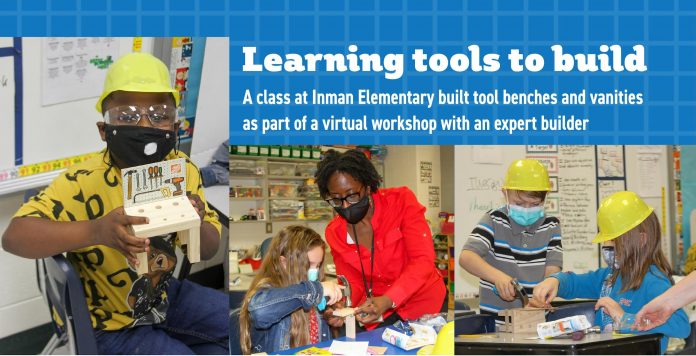 A class at Inman Elementary is handy with a set of tools. Tania Davis's 2nd grade class took part in a Home Depot Virtual Workshop, learning how to build tool benches and vanities with the help of contractor and TV host Kayleen McCabe.
"Our goal was for students to realize that they could have careers in different areas, including trade careers, that give them the opportunity to use their hands to explore and create," said Davis. "Using your hands, in this technology-driven world, is still very viable and necessary in our ever-evolving, global world."
The process started when school counselor Leslie Kollasch received an email earlier this year from a Construction Education Foundation of Georgia representative gauging interest in Inman hosting a Home Depot Virtual Workshop. Davis's class was picked for the live workshop, and the other 2nd grade classes will also use the video to take the workshop.
On the day, McCabe, who hosted Rescue Renovation on the DIY Network for five seasons, joined the class via Zoom and guided the students step-by-step through building their tool benches and vanities.
"This was one of the best activities that my students have participated in," said Davis. "They have been passionately talking about it, and I have had several parents contact me to share that their student now wants to build crafts on a regular basis. That's when you know that you have had a positive and lasting impact!"