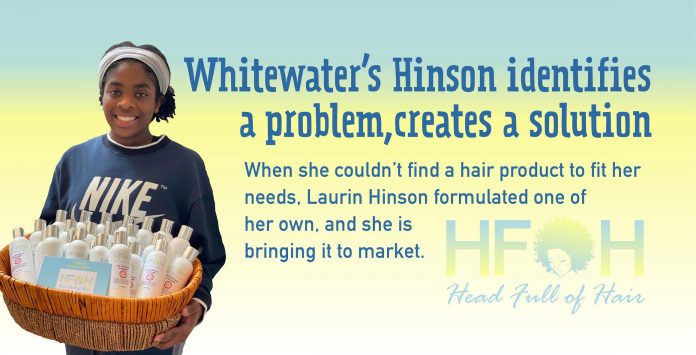 Facing a problem with no ready fix, Laurin Hinson made her own solution. When she couldn't find a pre-shampoo detangling hair product to fit her needs, Laurin, a sophomore at Whitewater High, formulated one of her own, Head Full of Hair, and she is bringing it to market.
"I have thick, long hair, and when I wash my hair, it becomes very hard to detangle, and I was having a lot of hair breakage," said Hinson who realized it would be easier and save time to detangle before she shampooed. "We also were spending a lot of money on different products that just weren't working, so I thought if I could develop something that would help with the detangling process before I washed it, then it would make my shampooing process much easier altogether."
The process of getting the formula just right was a long one, but it resulted in the right blend she was looking for.
"I have natural hair, and I wanted my product to have as many natural ingredients as possible," said Laurin. "I began researching what would make it easier to detangle my hair without causing breakage."
She started with ingredients that could be found at the grocery store, and she began trying out different pieces to the puzzle with each trip to the store.
"It was a lot of trial and error, but one day, I finally developed a formula that worked," she said of cracking the first half of the code. "Because it had no preservative in it, I could only use it for one shampoo process because it would get water in it, and water causes bacteria which leads to fungus."
She found a professional chemist who helped balance the formula, added a preservative, and added a parfum to give it a pleasant smell.
She took it one step farther. She didn't just make it for herself, she developed it for the market so others can benefit, working with an attorney to protect the formula. Finally, Head Full of Hair is now available for purchase.
Laurin's mother, Dr. Lisa Moore, was awed by her daughter's ability to turn a need from idea to finished product.
"Honestly, it has been very inspiring. When she first mentioned that she was going to create her own product, her dad and I didn't really take it seriously, but once she began experimenting with different ingredients and putting together different formulas, we realized that she truly was serious," said Dr. Moore, Principal at North Fayette Elementary School. "Watching her go through this entire process makes me realize that children are willing to take a risk, and if there is someone to support their vision and dreams, there is nothing they can't do."
Dr. Moore knows it is only the beginning for a daughter who has always been so driven.
"Laurin has always been very creative, and she enjoys learning how things work together to solve a problem," said Dr. Moore. "When she was in elementary school she began saying she wanted to be a chemist. She has maintained the desire to be in this field but now she wants to be a chemical engineer so she can focus more on design and production."
In the long run, there may be complementary products added to the line after Laurin fine-tunes the pre-shampoo detangler.
"Right now, I'm focusing on this product. My next step is to have a challenge test for my product so I can try to get it in stores, but I do want to create a shampoo and a deep conditioner," said Laurin. "That will probably won't be anytime soon."
Anyone interested in ordering can contact Laurin via Head Full of Hair's Instagram page (hfoh.hair). She plans to create a Square store soon to streamline the process.