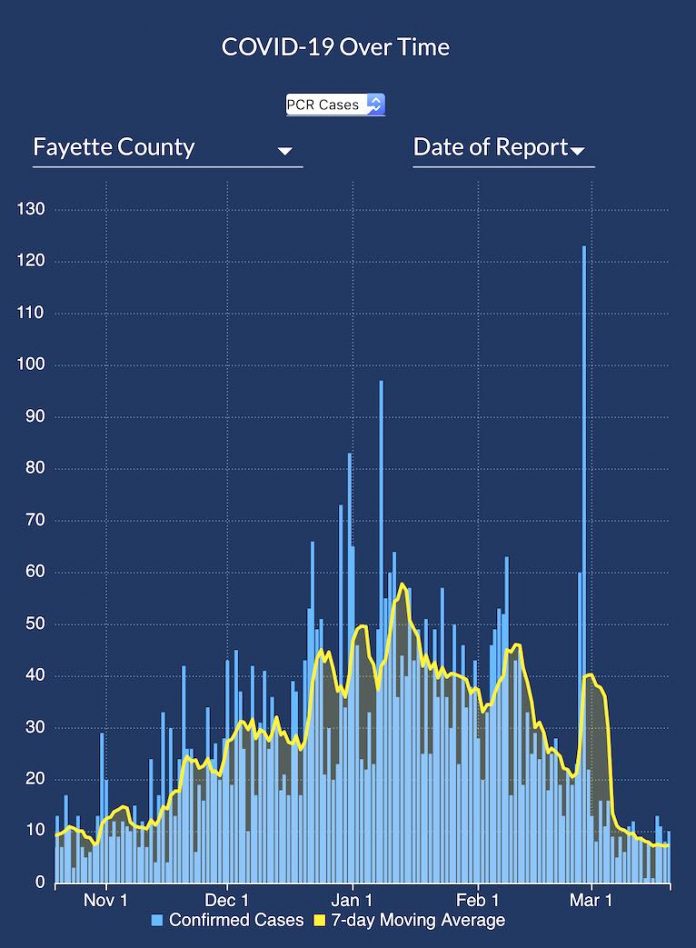 MARCH 14–20, 2020 — Fayette County added 53 new cases to the pandemic tally last week, a single-digit daily average, one of the best weeks since October 2020. The county total now is 6,332 test-confirmed cases.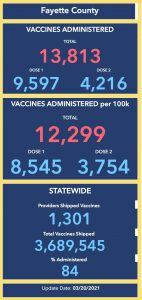 Meanwhile, Covid vaccinations administered in Fayette County climbed to a total of 13,813, with 9,597 people getting the first dose and 4,216 receiving the second dose. That number represents people from several counties, while many Fayette residents have gone out of county to get their shots. Thus there's no published data about what percentage of strictly Fayette residents have been vaccinated.
The county's closely watched 2-week rate of new confirmed cases also fell below the target marker of 5% for all 7 days of the week. The week's low of 4.0% was recorded on St. Patrick's Day, March 17.
The daily fluctuations of the 2-week rate ranged from 4.0 as a low to a high of 4.4 at the beginning of the week. The week ended with a 2-week rate of 4.1% Saturday. The rate represents how many people tested positive for infection during the previous 2 weeks. Thus, the target is no more than 5 confirmed infections for every 100 tests administered. For comparison, the 2-week rate got down as low as 2.6% on Oct. 16, 2020.
Fayette's one-year infection percentage — since the beginning of the pandemic in March 2020 — is an overall rate of 8.3%. That's slightly over 8 infections for every 100 residents. That compares to an overall rate of 10.4% for neighboring Coweta County and 10.8% for the entire state.
One new Covid victim was added to the list of Fayette residents' deaths on March 17: a 54-year-old white woman with no other underlying medical conditions. That brings the county fatality total to 137, a rate of 116.6 deaths per 100,000 population, or 2.16% of the number of Fayette cases.
Since the pandemic beginning one year ago, 236 county residents have been hospitalized for Covid infections, a fraction of the statewide total of 57,911 hospitalizations from last March to this March.
Nearby are graphs of information provided by the Georgia Department of Public Health, the clearinghouse for all Covid data collected in the state. They demonstrate in a visual way the two main surges in the pandemic and their declines.
Meanwhile, as statewide cases show a decline from the January surge that peaked at over 11,400 new cases on a single day — Jan. 8 — to a daily report of between 700 to 1,300 during the past week.
Statewide deaths are now at 16,145, with 275 added during the past week. In an accompanying graph, statewide Covid patient numbers seemed to have stabilized at just over 1,200 in hospitals around the state, just over 8% of all hospital patients. Covid hospitalizations peaked at over 33% of all hospital patients 2 months ago.
The battle against the coronavirus has ramped up with rapidly increasing numbers of state residents receiving vaccines against the infection.
On Friday, the Georgia Department of Public Health vaccine dashboard reported that over 3 million vaccines have been administered, approximately 82% of the doses allocated to the state. This includes 1 million Georgians over the age of 65, which accounts for 72% of Georgia's senior population. As of March 19, Georgia administered 1 million doses in 19 days.
"Georgia continues to make significant strides in protecting our most vulnerable citizens in the fight against Covid-19, with 72% of our seniors receiving at least one dose," said Governor Brian Kemp. "This targeted, data-driven approach to prevent hospitalization and death at the hands of the virus, coupled with increases in supply from the federal government, has allowed the state to move quickly in expanding vaccination criteria. With more Georgians now eligible, nine state-operated mass vaccination sites, over 1,300 private providers receiving vaccines, we have put 1 million shots in arms over the last 19 days.
"While Georgia has received increased vaccine allocation, we are 48th out of 50 states in doses delivered per 100,000 residents, according to the CDC. Additionally, as [DPH Commissioner] Dr. Kathleen E. Toomey and I discussed earlier this week, at least 250,000 doses confirmed as administered through the federal pharmacy program have been counted as shipped to Georgia but have not been reported as administered in our state. We continue to work with the CDC and the Biden administration to address both of these serious issues," said Gov. Kemp.