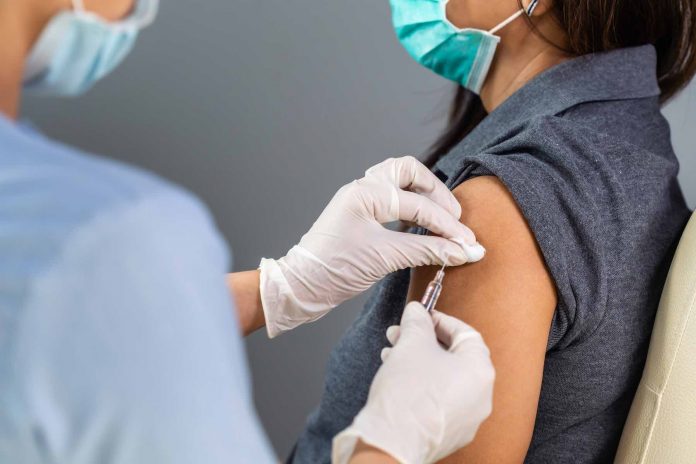 Covid-19 vaccinations have begun in Fayette County today, but it's only for certain people over 65 and only by scheduled appointments.
Getting in line to get their shots beginning today are residents and associates at an assisted living and memory care facility in Peachtree City.
"Residents and associates at Somerby Peachtree City will receive their first-round doses of Covid-19 vaccine during a specially scheduled vaccine clinic for seniors in the community," according to an email from Nicholas Wolaver for Somerby Peachtree City, located on Rockaway Road.
Also today, Piedmont Healthcare has begun vaccinating patients 65 and older against Covid-19, in accordance with directives from the Georgia Department of Public Health. Vaccine supply is limited and, as a result, patients are being contacted from the healthcare organization to schedule appointments.
All of this week's appointments are full and Piedmont is not conducting walk-in clinics.
"As additional supply becomes available, we will continue to contact patients to schedule additional appointments for vaccinations," according to a statement from Piedmont.
"At this time, Piedmont is operating seven dedicated vaccination clinics throughout the communities we serve. Those clinics are not located in our hospitals nor in our existing physician practices," Piedmont said.
"Please do not call or visit Piedmont locations unless you have an appointment. Calling or visiting without an appointment or many hours before your appointed time interferes with our ability to provide patient care at this critical time," the Piedmont statement said.
Meanwhile, the Georgia Department of Public Health (DPH) is launching a Covid vaccine locator on the DPH website (Click here for that locator). The tool allows users to search by county for a vaccine provider in their community, and provides location and contact information for the provider. This is not a centralized scheduling tool.
County health departments and private providers are included in the locator.
Residents locally can call for an appointment to get the Covid shot. It's the District 4 Health Office in LaGrange, which administers the health departments in Fayette and Coweta counties.
Call 1-800-847-4262 option 1 to schedule an appointment. Hours: Sunday, 8 a.m – 8 p.m.; and Monday-Friday 8 a.m – 6 p.m.
Click on and complete the consent form and bring it with you to your appointment: Vaccine consent form.
Additional locations statewide will be added when providers are ready to safely administer vaccine, and as vaccine supply allows. All health departments and most other providers require appointments for vaccine administration. Because vaccine supply is limited, providers may not have immediate appointments available.
Effective Jan. 11, Georgia will be in phase 1A+ of vaccine administration. That phase includes: healthcare workers (physicians, nurses, EMS personnel, laboratory technicians, environmental services, etc.); residents and staff of long-term care facilities; adults aged 65+ and their caregivers, as applicable; and law enforcement, firefighters, 9-1-1 dispatchers and first responders.
The process of administering Covid-19 vaccine is more complicated than other common vaccines, such as flu vaccine, and requires providers to have more resources available, including an area where individuals can be monitored for 15 minutes after being vaccinated. Many providers with vaccine are still vaccinating their own staffs and patients and are not open to the public for vaccination yet.
As both Pfizer and Moderna are able to ramp up production of vaccine in the coming weeks, supply should better meet demand for each phase of allocation and administration. Until that time, providers and the public are urged to be patient as we work together to get vaccine distributed in the most efficient and equitable way possible, DPH said.
All Georgians, including those who are vaccinated, are urged to continue to follow basic Covid-19 prevention measures: wear a mask, practice social distancing, wash your hands frequently and follow the guidance of Public Health and the guidelines in the Governor's Executive Order.