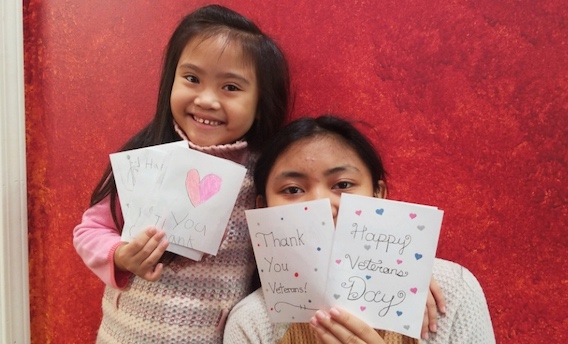 North Fayette Elementary Creates Special Flag to Honor Veterans — 
The global pandemic didn't stop Fayette County Public Schools from celebrating Veterans Day and honoring the men and women in their communities who have served in all branches of the United States military.
North Fayette Elementary students came together to create nearly 40 hand-made cards that were filled with hand-drawn pictures and 'thank you' messages for veterans and their families; these cards were used to create an American flag that is displayed in the hallway of the school.
Peachtree City and Crabapple Lane Elementary schools created appreciation videos, featuring songs, poems, presentations, and speeches, that were shared with students and their families.
Spring Hill and Cleveland Elementary schools used their morning announcements to honor veterans. The morning announcements featured Veterans Day facts and information.
Teachers at Fayetteville Elementary, Sara Harp Minter Elementary, and Whitewater Middle planned classroom activities that honored and celebrated veterans.
Starr's Mill High and Robert J. Burch Elementary used their creativity to honor veterans by decorating the doors and hallways of the school in red, white, and blue.
Flat Rock Middle hosted a virtual presentation that featured special guest, Cadet Eric Woods, who is a former graduate of Sandy Creek High.
Students at Peeples Elementary collected toiletries and goods for service men and women while Huddleston Elementary students created cards that will be mailed to veterans in the community.
Cadets from Sandy Creek High's Air Force Junior ROTC (AFJROTC) dedicated a Fallen Soldier Statue to Veterans Park in Tyrone.