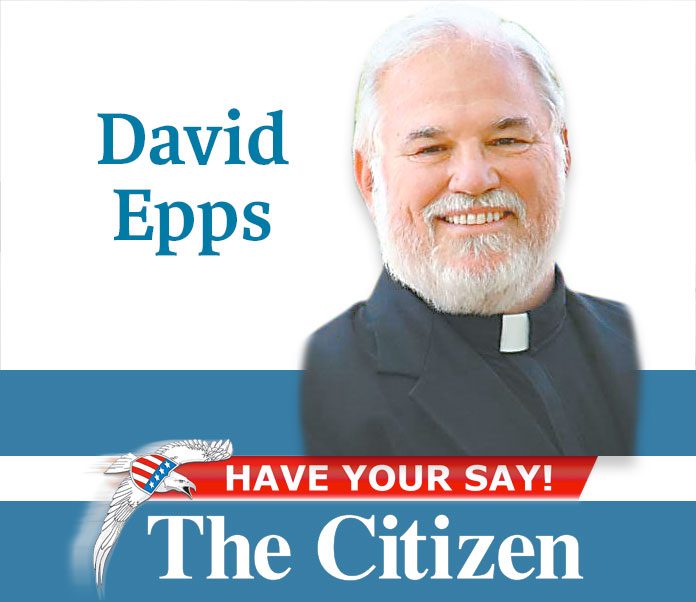 Recently it was announced that the President and his wife, as well as a number of associates, had contracted the coronavirus. Immediately, people all over the country, some famous, most not, erupted in an orgy of gleefulness. Some even expressed the hope that the President would die.
What the heck (and I only use the word "heck" because this appears in a family publication and language left over from the Marine Corps is inappropriate) is wrong with these people? Seriously.
I understand that many people in America are either immoral or amoral. I have very little expectation of these people. They have no guiding compass, nothing to center them morally except for their own opinions or the influence of others. But most other people at least pretend to strive toward goodness.
People, however, on both the Left and the Right, seem to have entered into something like a moral landmine field. While it's some on the Left hoping the President will die, there were also some on the Right who wished the same for the previous President. This kind of attitude is reprehensible, whoever expresses it.
I have said for years that, "Dogs bark, cats meow, cows moo, and sinners sin. It's in their nature." But what really troubles me are the alleged Christians who espouse this attitude and rejoice in the suffering and hoped for death of another human being. So, it is to these people that I address this question: "What the heck is wrong with you!?"
In Luke 6:27-28, Jesus teaches the disciples and the words and phrases he uses in this passage are these: "Love, do good, bless, pray, don't retaliate, give, do, be merciful, do not judge, do not condemn." He also says that "For the measure you give is the measure you get back." In other words, we will reap what we sow. This declaration is echoed by the Apostle Paul in Galatians 6:7-8. Whatever comes out of your mouth, your mind, or your heart, is coming back to either bless you or bite you.
This destructive and ungodly behavior didn't start with the 2020 election cycle. It didn't even begin with the 2016 election. Christian believers have always had trouble with reigning in their mouths. Every pastor and most church members have felt the sting of gossip and slander. Some of the cruelest and most unkind people I met in my early years of ministry were on church boards. Gossip, a sin of the heart and mouth, is, in my estimation, is worse than adultery because it devastates so many innocent people.
Most Christians control their behavior to a certain extent but many exercise little control over their attitudes or their words. What this election season has done is to merely reveal what is already resident in a person. Christians, of both political parties, are literally cursing candidates. I have had to unfriend or unfollow a number of people on social media I know simply because of the hate they spew on their pages toward one candidate or another.
The law of sowing and reaping is universal. It is a neutral law, neither only condemning nor only rewarding. It simply states that whatever grows is totally dependent on the seed. And while an agricultural image is used, it also pertains to spiritual and temporal matters. If one rejoices in the misfortune of others, if one is delighted when someone is sick, if one wishes harm to another, or hopes a person will die, that person is sowing the seeds of his or her own destruction.
I never pray for justice as it pertains to me personally. I have long ago concluded that life is not fair and that is something all people deal with. Why do I not pray for justice? Because if I truly am honest with myself, I am deserving of divine justice for all the wrong I have done (and still do) and I really don't want that. So, I pray for mercy and try wherever possible to dispense mercy, because I am continually in need of mercy.
God's will for each person, according to the Book of James, is that we be "perfect and complete, lacking in nothing." The enemy of our souls, however, has a different agenda. He comes only to "kill, steal, and destroy." Sadly, a fairly significant number of God's people are providing him with ample ammunition.
Look, I am well aware that the current president of the United States has "issues." He did not conduct himself as a gentleman in the 2016 debates and few would accuse him of being a nice guy to everyone. Some would suggest that he, too, is reaping what he has sown. That may be very true.
But, unless I am terribly mistaken, the President doesn't read these columns and I have no influence over him at all. I may have no influence with anyone but I fear for people — especially of my own religious clan — when I see them, sowing the seeds or their own spiritual (and possibly mental and physical) destruction.
The point is this: If you are one of those angry people, religious or not, and you rejoice when others are humiliated, or think it humorous when people are called names and denigrated, or are happy when misfortune visits others, then look out. Bad things are coming your way.
If you can't get on social media without getting in some kind of food fight with someone or come away from the computer or phone without being angry, depressed, or stressed, you might ought to take a break from social media. Besides you aren't going to change anyone's mind and you just might lose yours.
Here endeth the lesson.
[David Epps is the Rector of the Cathedral of Christ the King (www.ctk.life). During the crisis, the church is live streaming at 10:00 a.m. on Sundays at http://www.facebook.com/cctksharpsburg/ He is the bishop of the Diocese of the Mid-South He may contacted at davidepps@ctk.life.]