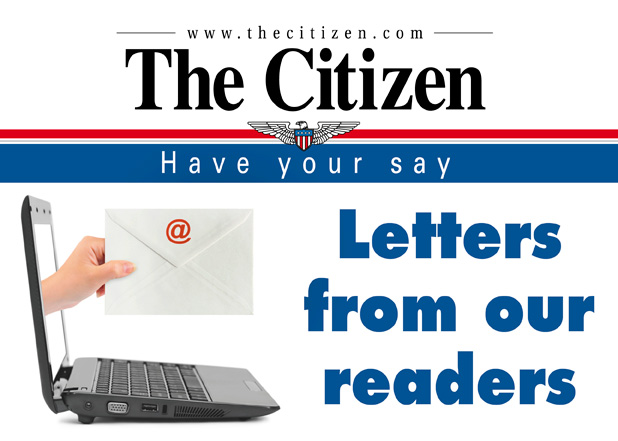 Given the highly polarized and angry climate in our country, not to mention the unjustified hatred we seem to have for one another these days, it seems almost pointless to express any opinion about anything anymore, especially since everyone seems to be "dug in," whatever the issue.
But, as a retired veteran, I cannot let stand the recent comments against our military, made, allegedly, by Mr. Trump. And while it is fair that he and his many, many supporters vehemently deny any of these accusations, it is the sad state of affairs that documented video, audio and printed history, not to mention the accepted credibility of the report's author, make the recent report consistent with Mr. Trump's previous attitude and behavior.
But Mr. Trump himself is not even the issue anymore; the attempted tainting of our Armed Forces is.
In the chaotic environment of today, it appears that all our democratic institutions are under attack and they seem to be weakening by the day. Each of us must decide for ourselves who is responsible and for what reason, but many of us feel that the Republic is in peril. Yet, the last bastion of honor and integrity, the U.S. Military, appears to hold … though not without what appears to be efforts to embroil them in this chaos as well.
Hearing now even the slightest suggestion that anyone, anywhere would ever think, let alone say, anything negative about our military … and their families … is shameful.
My own admiration for the military began at the knee of my dad, uncle and cousin's WWII generation, those who suffered silently under the weight of the Great Depression only to be met head-on with the unfettered violence of WWII. At maximum sacrifice, they not only saved the world from global insanity and oppression, they came home to build the world they should have had … and quietly gave it to us.
That admiration grew when I learned how silently those Korean veterans suffered through the anonymity of their own war and came home to do the same.
Then came Vietnam, when most of my generation, whether volunteer or draftee, did their duty … at least for each other … all while the whole rest of the nation cursed them for what they did while never understanding that the Vietnam failures were a result of both political and senior military leadership and not those who carried the burden in the field.
And it means even more now given that, with only less than 1% of our population in uniform, these youngest women and men not only willingly carry the burden of multiple combat tours and the stress that goes with that, but the constant worry that their own government will not have their back while they are in the field nor care for them upon return. The words "bounty" and "suicide" have real meaning to them … as it should to all of us.
For all of this, I joined the military as well. Knowing what I have learned over time: that I may never be as heroic as those that preceded me, I had always hoped I could at least be as brave. Mercifully, I was never a combatant and simply did the best I could as a second-tier cargo pilot, that time of which gave me the sense that my time in the Service was the best of my professional life. I will always consider it a privilege to have served alongside of those who "Stood the Post."
It is they who have guaranteed our perpetual freedom.
But again, that anyone would disparage the military, especially those that have given their lives, goes even beyond the definition of "disgust" and "reprehensible."
1. I vehemently disagreed with Senator John McCain on many, many issues. And I raised the devil with his office the day he attacked airline pilots (my profession) on the floor of the Senate during an economics debate. Yet, he will always be a hero to me for his sacrifices in the POW camp in Vietnam … not because he was shot down or even tortured … but because he would not leave his comrades even when given the chance. Military ethos at its finest!
2. In the late 80s, in a very difficult labor dispute, President George H.W. Bush backed a corporate raider instead of our employee group. The result cost us our company and my career. Some of us recovered later, but not all did. Yet, while a part of me will never forgive him for what he did, he will STILL be a hero to me for his time in WWII.
Not because he was one of the youngest volunteers in Naval aviation or that he served in many combat operations or even that he survived being shot down in a dangerous bomb run. It was because the greatest regret of his entire life was the loss of his two crew members on that very mission, something he carried with him until his last days.
"… Greater love hath no man" — something perhaps only those who serve in the military (and some First Responders) understand and appreciate more than anyone else.
Duty, Honor and Country are not just words. They are the heart and soul of our military. They are what this nation is all about.
Everyone has a right to think, say, and do as they see fit, be it politics, religion or anything else. But shame to everyone and those around them who remain silent who treat the Armed Forces of these United States with less than the respect they deserve.
Sadly, I ask that my last name NOT be used because of the ugly environment we live in, one where there are only "sides" and no one seems to have respect for anyone else. Disagreements about my opinion I understand, but the expected harassment that is sure to come is something neither I nor my family can endure. The end result of all that is that I don't wish to be the focus of something that deserves attention in its own right.
Bill
United States Air Force (ret.)
[The writer's name is being withheld at his request.]