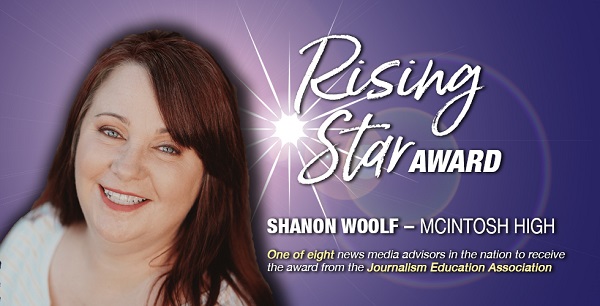 McIntosh High School media advisor Shanon Woolf in November will be presented with the 2020 Rising Star Award from the Journalism Education Association.
Fayette County Public Schools spokesperson Melinda Berry-Dreisbach said Woolf is one of eight teacher advisors in the nation selected to receive the 2020 Rising Star Award from the Journalism Education Association.
The award is reserved for teachers who are in their first five years of advising a media program and have shown great dedication to scholastic journalism, and have had success advising at least one media program, Berry-Dreisbach said.
"When Shanon Woolf decided to make a switch two years ago from being an English teacher to her dream job of advising a high school news media and yearbook staff, she never imagined that early into her transition she would be recognized as one of the most outstanding up and coming advisors in the nation," Berry-Dreisbach said. "Woolf has a rich professional background, having worked for a stint as a journalist before becoming an English teacher, a job she did for 18 years."
While Woolf loved being an English teacher, her passion for journalism never waned, so when the job for a newspaper and yearbook advisor opened up at McIntosh two years ago, she jumped at the opportunity to combine her love of teaching and journalism, Berry-Dreisbach explained, adding that
Woolf said it is all about trust in her classroom, and she trusts her students to do the jobs she has trained them to do.
"When kids take ownership of something, and they see that it really is theirs, they realize how powerful they are," says Woolf. "And nothing is more exciting or makes me prouder than watching kids be powerful."
The Rising Star Award is a juried award that is evaluated by a national panel of journalism educators. Woolf will receive a trophy at the Fall Journalism Education Association/National High School Journalism Association national conference Nov. 19-20.