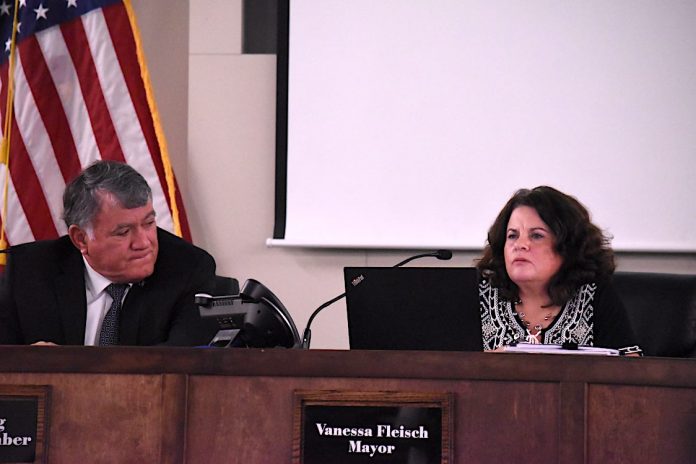 The word to remember is 'redevelopment' — 
Peachtree City Mayor Vanessa Fleisch's comments came as the City Council last Thursday was preparing to vote to keep the city property tax rate the same as last year: 6.232 mills.
But she was signaling the citizenry that change is coming to the city, presaged by an ongoing study by the Atlanta Regional Commission's Living Centers Initiative that focuses on what happens next in Peachtree City.
The average age of a home in Peachtree City is 30 years, Fleisch said, and even so, property values continue to go up. "That's pretty impressive," she said.
She contended that to keep that trend going, "we must be reinvesting in the city."
She noted that the sheer amount of cardboard boxes from Amazon packages now showing up in the city's recycling containers demonstrates how commerce has fundamentally changed.
"You shopping habits are changing," Fleisch said. "If you are shopping online, what does that do to the local establishments (like Steinmart)?" Her point was that the core concept of Peachtree City envisioned multiple retail shopping centers that formed the city villages' centers.
When retail declines as dramatically as it has in the past few years — punctuated by the Covid-19 pandemic and mandated business shutdowns — retail centers as village centers are in danger of not having enough customers to stay in business. That means empty, aging centers at the heart of the city's five residential villages.
The anticipated solution is what the council wanted with Aberdeen Center — a new city center, with live-work buildings and maybe some high density residential within walking distance of a new shopping and entertainment area. That deal fell through, but the idea is likely to come back alive when the survey is compiled and the LCI study is presented to the council, later this year.
Instead of "being stuck in our ways," Fleisch said, "it's better to have a roadmap for the future of Peachtree City."
She encouraged residents to go online and complete the LCI survey (click here for that link).
The council will use that survey and results of the LCI study to "guide the way the city looks in the future."
And what about postponed July 4th events? The good news is that a fireworks display over Lake Peachtree is still on for the evening of Sept. 5 at 8:30 p.m., during the Labor Day weekend.
The unhappy news is that — due to lack of entries — the parade has been cancelled.