Clear skies over Fayette County on Saturday afternoon provided the perfect backdrop for the Navy's Blue Angels and the Air Force Thunderbirds to give a flyover salute across metro Atlanta to frontline hospital workers battling Covid-19.
The joint effort from the Navy and the Air Force is part of multiple flyovers across the nation called "America Strong" — a collaborative salute to honor healthcare workers, first responders and other essential workers as they combat Covid-19.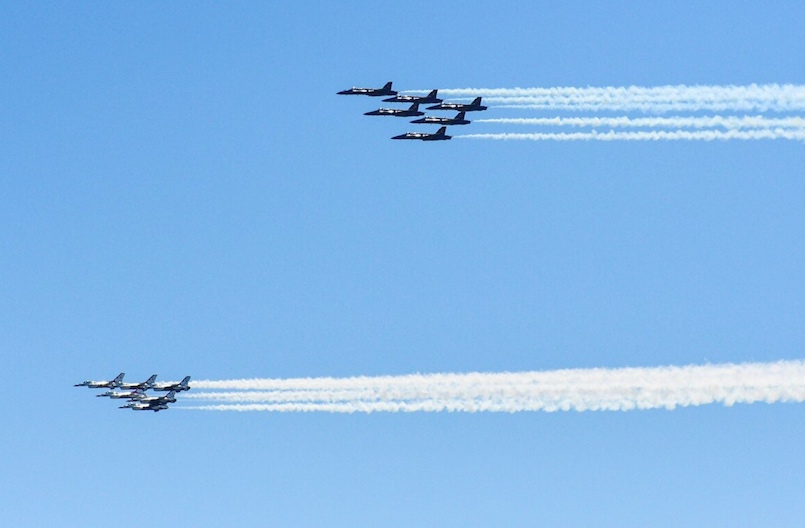 Crowds gathered in locations along Ga. Highway 54 and at places along Veterans Parkway and the Pinewood Forest Production Centre to watch as the formation flew in from the northeast and over the Piedmont Fayette Hospital area, then continued west to the final flyover site at Piedmont Newnan Hospital.
"America Strong is a way for both teams to show appreciation to the thousands of doctors, nurses, first responders and essential workers out there serving on the frontline day-in and day-out," said Cmdr. Brian Kesselring, Navy Blue Angels commanding officer and flight leader for the flyover. "This is an extraordinary and unprecedented time, but we will get through this. We are all in this together."
The flyover route by the Blue Angels and Thunderbirds included:
– WellStar Kennestone Hospital
– Piedmont Hospital
– Atlanta VA Hospital
– Northside Hospital/Children's at Scottish Rite
– Grady Memorial Hospital/Children's at Hughes Spalding
– Atlanta Medical Center
– Emory University Hospital/Children's at Egleston
– Piedmont Fayette Hospital
– Piedmont Newnan Hospital
Along with the Georgia flyover, the Thunderbirds and Blue Angels on Saturday performed formation flights over Maryland, Virginia and Washington, D.C.
"We are honored to fly over these cities in a display of national unity and support for the men and women keeping our communities safe." said U.S. Air Force Lt. Col. John Caldwell, Thunderbird commander and lead pilot. "These flyovers are a gesture of goodwill on behalf of the entire Department of Defense to the heroes of the Covid-19 pandemic."