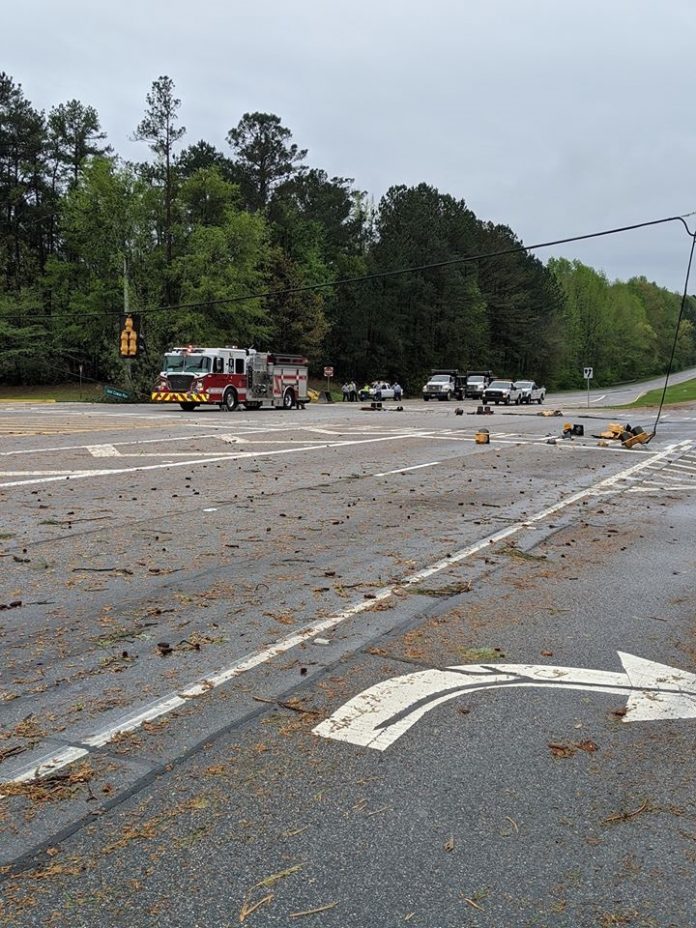 Storm winds late Tuesday morning took out trees, power lines and traffic signals at Ga. Highway 74 North at Georgian Parkway and at other locations around Fayette County. Photo/Peachtree City Police Department.
High winds moving through Fayette County from the west late Tuesday morning knocked over trees and power lines,  causing traffic disruptions and detours and leaving large numbers of customers without power. Fayette and Coweta counties had been under a tornado watch in the late morning hours.
National Weather Service forecaster Katie Martin the weather event was not a tornado, rather it was a straight-line wind event.
Coweta-Fayette EMC at 6 p.m. reported 12,513 Fayette customers without power in the Peachtree City and Tyrone areas and, to a lesser extent, in areas scattered around the remainder of Fayette, including Fayetteville.
Georgia Power listed less than five customers without power in Fayette. Those were located near the intersection of Ga. Highway 74 and Dividend Drive.
Peachtree City Police Department spokesman Chris Hyatt on Tuesday afternoon said trees fell on power lines at Georgian Parkway and Ga. Highway 74, taking out the traffic lights.
Hyatt said traffic on both northbound and southbound Hwy. 74 North is being detoured.
Crews coming from Milledgeville are in route, Hyatt said.
More traffic disruptions came along Hwy. 74 South, with trees falling on power lines near Dividend Drive, though Hyatt added that traffic on Hwy. 74 south is flowing.
In Fayetteville, downed trees are on power lines in the area of Ga. Highway 85 near the Fayette Pavilion, causing traffic lights to be inoperable.
The resulting power outage extends to Ellis Road to the south, the city said.
There are also traffic lights out along Hwy. 54 on the west side of Fayetteville.
Caution while driving in those areas was advised.
Much of east Coweta was affected, with much of Senoia without power.
Meantime, Georgia Power on its outage map shows a few thousand customers in east central and southeast Coweta County, and those in the vicinity of Dividend Drive and Hwy. 74, to be without power.