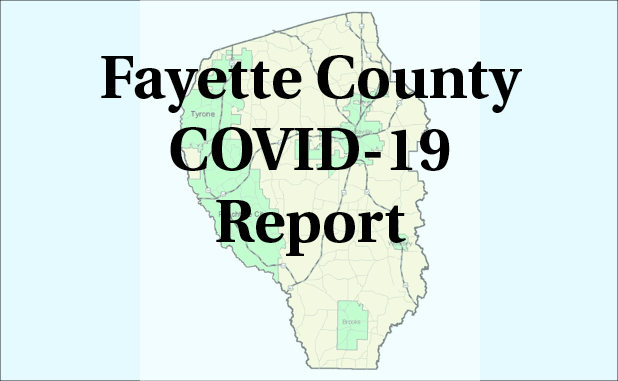 Georgia reports 1,247 total cases with 394 hospitalized and 40 deaths — 
While Fayette and Coweta illnesses caused by the new coronavirus remain the same at 12 and 10 respectively, the statewide count went up 221 confirmed cases, from 1,026 Tuesday to 1,247 Wednesday, according to the Georgia Department of Public Health.
That's a nearly 22% increase day to day, but that's still under the 33% hike reported one day ago.
One change in the DPH report is the additional category of number of persons hospitalized with Covid-19. The DPH reports that of the 1,247 confirmed cases, about a third are in hospital beds — 394 or 31.6%.
The Georgia Emergency Management Agency (GEMA) is separately reporting as of March 24 two deaths from Covid-19 in Fayette. No details were given as to the second fatality. The first was an 83-year-old man last week, who had an underlying medical condition.

The 40 deaths across the state caused by the coronavirus infection represented a fatality rate of 3.21% of the total number of cases reported. The rate as of the day before was 3.12%.
Cases by sex varied only slightly: 51% female and 48% male, with 1% unknown.
Infection cases by age group were as follows: Ages 18 to 59 represented 60% of all cases; 35% of cases were in the 60 and over age group; 1% of young people under age 18 had contracted the illness; and the ages of 4% were unreported.
Lab tests continued to increase: 4,697 commercial lab tests resulted in a positive confirmation of Covid-19 in 1,041 of the tests, a positive rate of 21%. DPH results from 1,482 tests showed a positive finding in 206 cases, just under 14%.
Numbers of confirmed tests in adjacent counties this geographic area are as follows: Fulton, 198; Clayton, 22; Fayette, 12; Henry, 12; Coweta, 10; and Spalding, 6.